True Bayberry Candles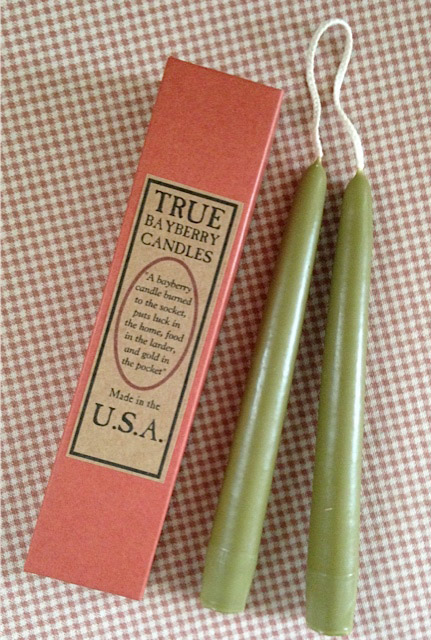 During the Christmas season of 2015, I opened a "pop-up" shop in Bellows Falls, Vermont. It was open from the Friday after Thanksgiving until Christmas Eve.
I went back in time for inspiration, to my years of keeping an open shop, from 1981- 1995; in those years we celebrated Christmastime in a big way.
One of the mainstays of all my shops was very special candles, and so I did research to find my favorite candle - the Bayberry Candle.
When the Schoemer family was young, we enjoyed wonderful sojourns on Nantucket Island —before the REAL gold rush ! The bayberry bush is ubiquitous on the moors of Nantucket, and it became a favorite shrub back in the 1960s and 1970s. The bluish, greenish, grayish tiny berries are beautiful, and when rubbed emit a soft and mysterious scent that is a long-held and treasured memory of my many walks on the sandy paths of Cliff Road. The foliage of the Bayberry is lovely as well - sage-like leaves and woody stems. It made a perfect rustic arrangement for the country table. In early America and after, the tiny berries were harvested and when heated they shed a beautiful green wax. Like maple syrup, the yield was tiny; it took bushels of collected berries to make precious few candles. But, anyone who remembers these candles from childhood delights in re-discovering them. They burn evenly and beautifully and have a very gentle fragrance which is totally natural. Not meaning to cast aspersions, but these are not Yankee candles! The scent is hardly discernible, and very lovely.
Thankfully, here in the northeast corner of the US, the process is alive and well, and we are honored to be able to offer True Bayberry Candles. An 8" pair, tastefully boxed in a soft brick red paper box, labeled and containing the legend of the Bayberry Candle from olden days, costs $14. These delightful candles sold out in my pop-up; people loved them and could not get enough of them. I have asked the kind people who hand make them to supply them for my web friends.
Priority shipping for 2 boxes is $5.00. This is less than cost so that we are sharing the cost with you. Please inquire about shipping for more or less than 2 boxes, and thank you for your understanding.
So… $14. (plus shipping) and you will share in one of colonial America's most precious traditions. Please click on Contact and email or call me with your orders. For convenience: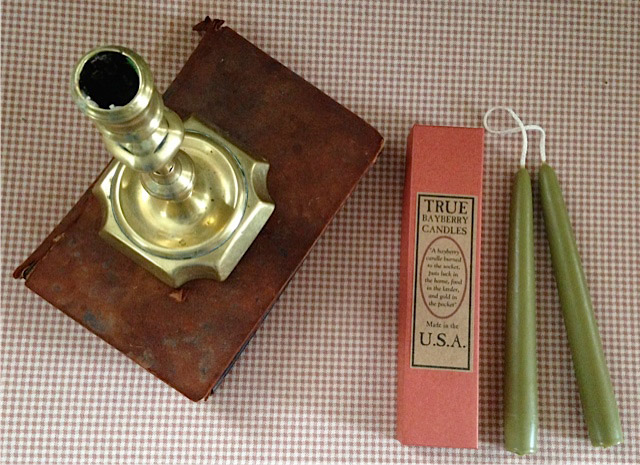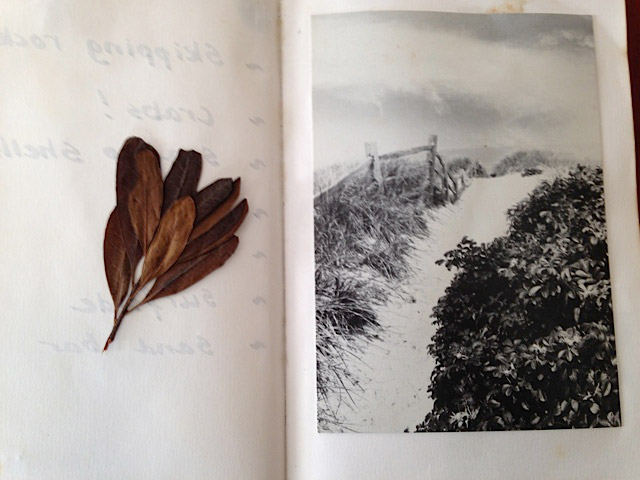 A glimpse of a scrapbook from a Nantucket junket in 1978 -
bayberry sprig and the moors.
---