January 2014: Busy and Quiet Times | Notes Archive »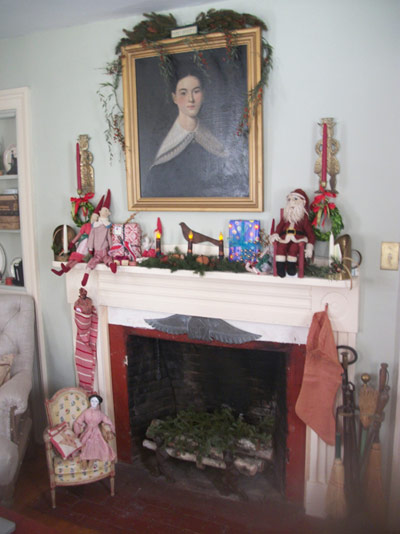 If ever you want to experience the Thanksgiving and Christmas seasons in a small NH village, you must visit Walpole. The day before Thanksgiving was a Norman Rockwell painting, with towns-people bustling about the shops with turkeys under one arm and paper bags of groceries brimming over in the other. It was our first here and the table was set for only five, but there was congeniality and good food.
Early December provided a perfect dusting of snow to cover up all the browns and we set out to decorate the little house in fitting style. In fact, December brought lots of real, old-fashioned snow, dry and fluffy and glistening. For the first time in years, we had a blast of winter before Christmas to create the perfect mood for preparations.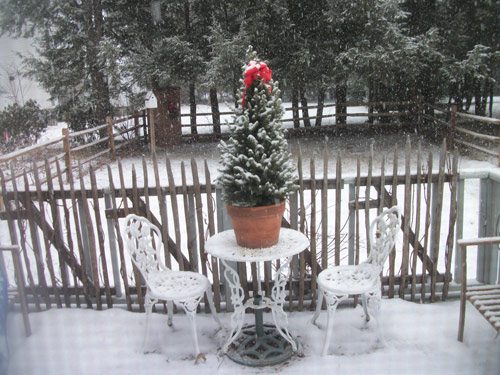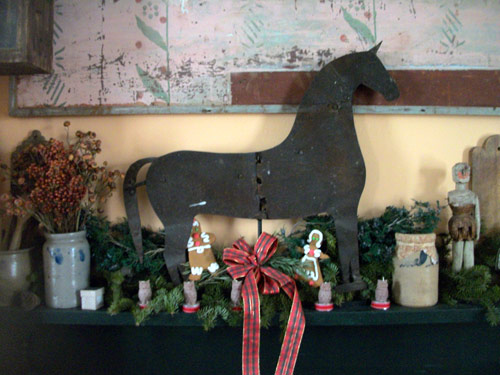 There is no storage space here in the house ; hence, fresh greens are in order. One of our wonderful neighbors - an antique book dealer - told us of peeking in the parlor windows after dark to admire the Christmas things. We love that !! After years of being tucked away in our Acworth farmhouse with only ourselves, the animals and few guests to admire the decking of the halls, we are delighted to share the joy with appreciative passers-by. It's a challenge to keep the decorations in place what with Boo, our 1 year-old cat, watching every nuance and waiting patiently til we leave the room to dismantle what has been set up.
The Walpole Historical Society celebrates each year with a big bash for members and it was fun to walk down the street to the Academy where it is housed, up a long , steep path, lit by luminaries, to a spirited group of townsfolk and groaning boards of delicious homemade food. There, surrounded by the Society's treasures, we joined with neighbors to welcome the Christmas season. Wish they had offered recipes with the food; there were some old favorites offered, timeless treats, some with recipes lost in time. One can become acquainted with highlights of the collections: an Eastman Johnson portrait of Ruth Bellows in a blue frock (which I am told is upstairs in the costume collection!), a sweet piano used by Louisa May Alcott during her family's sojourn here in the mid-19th c, and the newly acquired Watkins Tavern sign, a masterpiece. As I have said in previous Notes, this is a town with a lively interest in its past, and a deep appreciation for preservation.
Then there is the town's traditional ensemble performance of A Christmas Carol. Amazing. Really. The Town Hall theater is transformed with the cleverest set - a huge wooden molded frame - painted with swirls and flourishes by our friend, Dutchie Perron. That frame and the surrounding darkened stage make up the set. As a dealer, I am always looking critically at the props; these were perfect. Scrooge's schoolmaster's desk, the mantle, chandelier, all festooned with greenery. Mr Fezziwig's ball is beautiful with carefully costumed Fezziwigs and towns- children performing the quadrille to a joyful motet. This may have been the highlight of the 2013 Christmas season. The play is free with a request for donations to 2 local food shelters. A Christmas gift to the town from the Walpole Players.
Christmas Eve is marked with a live Nativity on the Town Green and a carol sing, beloved resident, Ken Burns presiding.
Now - the dark season. The new year was blasted with a major heap of new snow and cold, cold temps. The little old furnace is huffing and puffing but we are cozy and the animals are not complaining. We have never had a fireplace in the kitchen and this house has one which was dysfunctional when we bought it. We opted to invest in opening up that flue and the one in the front parlor. What a joy ! We spend so much time in the kitchen, more time than most of us realize. That hearth has been the true heart of this little house this winter.