May 2014: Springtime in Walpole | Notes Archive »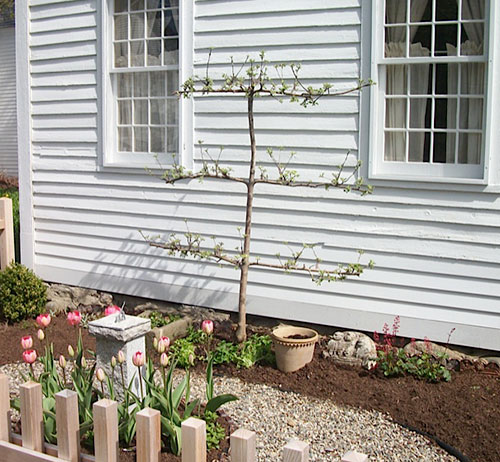 All winter, I have prayed at the window for the espaliered apple tree Eno planted in our tiny dooryard garden last fall. We were victims of a very unscrupulous garden designer, and among other things, the espalier was dropped off late in the season, in the dark of night, with no instructions on planting. It had a tremendous root ball, and Eno bravely tackled it, but realized quickly that he couldn't handle it alone. Our intrepid builder was nearby, and a cell phone call brought him to our aid, and, by hook and crook, and sheer determination, the poor tree got unceremoniously put into the ground. We watched the winter winds and ice and snow batter the defenseless tree, and as the spring season began to emerge, I stood at the window and wished it to life.
Well, there is life - even potential bloom on the poor little tree. And, passers-by are happily sharing the news with us. At other times in life, I have found nature to be the restorative balm, and this counts in that list. We have had a really tough year: selling our dear home in Acworth and emptying it of all our treasures; a family sadness; the loss of a profoundly meaningful (I thought!) and long-standing friendship; rescuing this house in Walpole; major changes in my business life - going from major show appearances to web and media connections, just mentioning a few. The little, tiny garden in the front, with its Williamsburg-ian echoes, has been a comfort and focus. For an unknown reason this village has not had dooryard cottage gardens, and what with the huge number of walkers and bike-riders, the garden has countless fans. Now I am beginning to fill in the skeletal appearance of the space and start the roulette game of what will make it and what won't. You gardeners out there surely know of what I speak.
Please watch my Offerings page and my ads in the Maine Antique Digest for updates on what's for sale. We have really cut the show schedule after 43 years. Eno has recently decided to park his race car and this year we are both staying close to home. It's wonderful, but different. One of life's greatest challenges is knowing when to change direction. The move to Walpole seems to have been a turning point for us.
So, the theme here is a bit complex. There are new challenges; all is not a folksy fairy tale, thank God. I hope this will resound with those of you out there who face similar events. You are in a vast company of mountain climbers!
Enjoy spring's rebirth with me this year.