August 2014: Falling into Fall - Talking Food | Notes Archive »
The slightest hint of coolness in the air requires "putting up" for me. I've had my dalliances with jams and jellies, chutneys, spiced pears from a neighbor's tree in Acworth, a long one with my tomato puree (I freeze the cooked fresh tomatoes, seasoned with herbs from the garden, and pureed), and now I am smitten with onion confit. Must be all those cooking shows on tv, but onion marmalade -or confit - is food fit for a king. Today Vidalia onions were on sale at the market and I have peeled and slivered several pounds of them. Heating up some good olive oil and unsalted butter in a nice roomy sauté pan, sprinkled liberally with coarse ground fresh black pepper, the onions soften for 45 mins. or more, and then they get splashed with balsamic vinegar and brown sugar. I don't measure, but you cooks know how much to use. They cook a while more until the flavors are integrated, they cool, and then they go into pretty jars. A good portion goes into the fridge, some goes to friends, and the rest gets frozen. This stuff is delicious served with meats (try it on burgers), egg dishes, fish, sauces - bring it all on ! It makes such an impression on guests; I've had many requests for the recipe.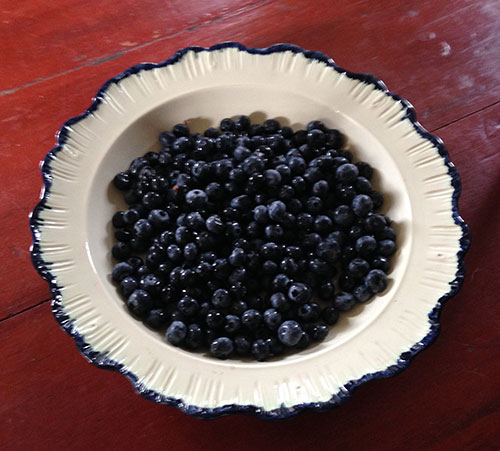 Blueberries, you ask ? Our region of NH is blessed with the perfect climate for blueberry culture, and they flourish here. Recently I had to empty a freezer to donate it to a local food bank and I found way too many frozen blueberries from seasons past. (The blueberry is purportedly more nutritious after having been frozen.The antioxidants are sealed in the berry when frozen, and released in full force when cooked. At the end of this story, I will tell you the secret to freezing berries.*) Well, I threw them all into a big pot, added some sugar and cinnamon, and they bubbled away until the whole thing was a big blue slurry. Into big jars they went, and we have had them on desserts, and the other night I remembered an old recipe from the Silver Palate cookbook for Blueberry Chicken. Patty Gagarin, who was a stupendous cook, made this dish frequently. I pounded the organic chicken breasts, dusted them with flour and browned them very quickly in oil. Then they got slathered with the blueberry slurry covered, and they finished cooking. Wow, it was good, and, best of all, it brought Patty back to me. She was a great friend, and she would just love that I remember her wonderful cooking.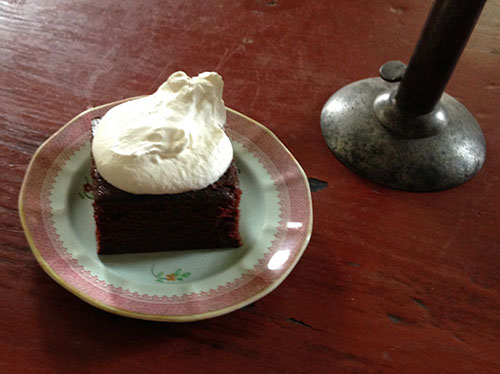 Want more ? Here is a simple and delicious chocolate cake which Eno loves, and it's from the Acworth Woman's Club cookbook, so it's an old recipe. On a chilly autumn afternoon, have this waiting for your family.
Preheat oven to 300*
Sift together: 2 c flour, 1/2 t salt, 1/2 t baking soda
Cream 2 c sugar and 1/2 c shortening (okay, Crisco, sorry !)
Add 1/2 c cocoa, 1/2 c thick sour cream and 2 beaten eggs to creamed mixture. Blend.
Mix another 1/2 t baking soda into 1 c boiling water. Add dry ingredients alternately with wet ingredients into creamed mixture. Blend.
Pour into greased 9 x 13 pan and bake 1 hour.
Serve with whipped cream.
* Freezing Berries
Spread berries on cookie sheets so that they are separated from each other.
Freeze.
Now they can be stored in plastic bags, portioned for future use.
This really works and the berries are still as fresh and delicious as when picked.
So, yes, we cook. Good cooking goes hand in hand with cozy country living, and the fall brings out the wizards in the kitchen. I feel so fortunate to enjoy cooking, and to have a husband who loves to eat what I cook. My mother was a wonderful cook, but she didn't enjoy it. She was the oldest of a huge brood of kids and maybe she just had to cook too many meals. My daughter, Karen, is a good cook too, and recently her daughter, Loretta, made her mother a glorious birthday cake from scratch.
Happily, it's in the DNA.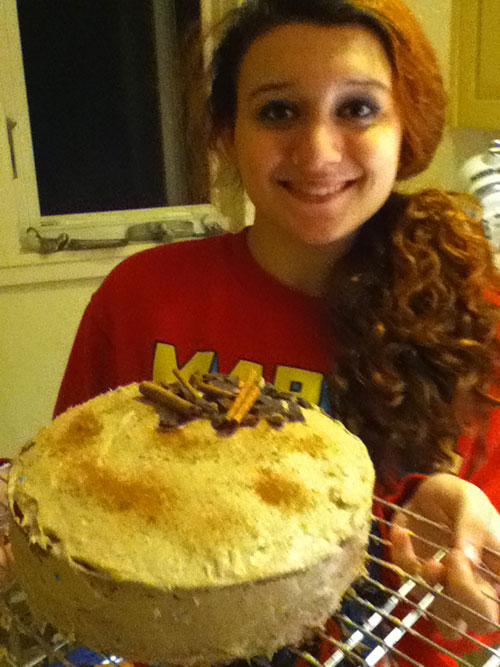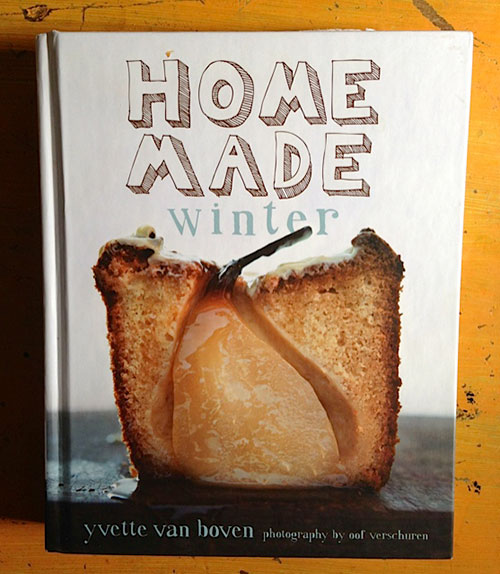 Curl up under a quilt with a good cookbook when you have a few free minutes. Inspiration is waiting.
Happy fall.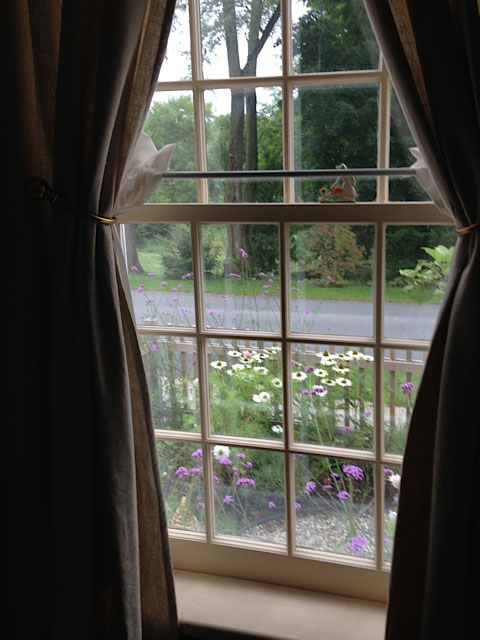 Last look at the thriving garden, out the parlor window.