October 2014: Winter Whispers| Notes Archive »
Last year, the fall foliage was missing the bright reds and oranges; this year they are vibrantly back.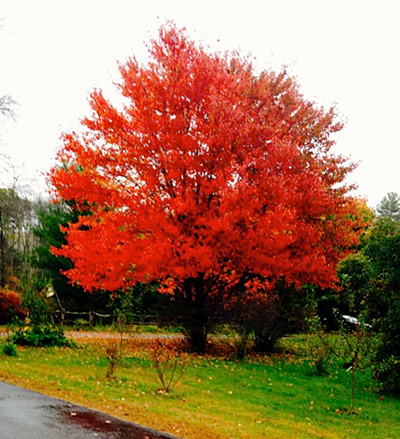 We can look for all kinds of hidden meaning in that: Last year we had a seriously snowy and cold winter. Were the burnt siennas and umbers a portent of that ? Maybe the warm brilliant color will give some warmth to winter days. One thing is certain: It is wonderful to see the wild colors again. After our monumental move to Walpole last summer, the subtle fall matched our spirits, and now that we are settling into this little village, the colors are a big hurrah.
We have found one of the secrets to tiny house-keeping is to organize and listen to what the house has to say. What doesn't fit must go and that's that. The excess has to be dealt with and under the beds must be cleared to give room to cats and dogs who need to retreat there once in a while.
I have finally made a huge dent in dealing with precious things - especially books. It's no use having books scattered about so that one has to crawl around the floor searching for one. Now... that is really unpleasant. So, my collection is well represented in the Walpole Library Book Sale this fall.
Truth is, until I began to seriously move things out of the house, I was not happy. The word "down-sizing" has been a constant for almost 2 years, but the reality of it is something else again. Down-sizing is not for sissies either. The house is really smiling at us as we get it in shape, and we are smiling back.
As always, signs of winter abound. Wood stacks; piles of bags of wood pellets on porches all over town; storm windows coming out of storage; raking, raking, raking; wistful-looking gardens; bittersweet bouquets on doors... The inevitable in New England is moving our way and we have to be ready.
Our lives move indoors and the "things" we love take on a new significance. As the mood outside becomes stark and haunting, inside the house, objects glow and radiate warmth. I try to edit at the start of summer and, as winter moves closer, bring things out again. It's always a surprise to re-acquaint with cherished objects.
One of my winter pleasures is knitting - mittens and scarves, but mostly mittens. They are very chunky and woolly and smell of real lanolin because the wool comes from a sheep farmer in Vermont and is the real thing. Here - offered for sale for the first time - are my mittens. If you have an extra large or small hand, I will make you a custom pair. The ones offered here are perfect for most women. They are $22. including postage, and they are very comforting and are made with tons of love. My mittens are 9-9 1/2" long by about 4" across. At Nan Gurley's Marlborough Show on Thanksgiving Sunday, I will be offering a very limited group of garlands of tiny mittens. At the moment they are hanging around the house and we are really enjoying them. There's a lot at Nan's show. Please visit.
| | | | | | | |
| --- | --- | --- | --- | --- | --- | --- |
| | | | | | | |
| Item # M-1 | | Item # M-2 | | Item # M-3 | | SOLD |