Here comes the blessed feast of Christmas when we all become children and look for magic everywhere. I firmly believe that every year of my life there has been a totally unexpected bit of Christmas magic. In years past, Jane Cather, the doll maker, always provided a highlight, usually one of her wonderful dolls, or later a piece of her extraordinarily unique jewelry. At Christmas 1990, Eno surprised me with a sweater I had admired in a shop window on Martha's Vineyard, our honeymoon destination after our Thanksgiving wedding that year. While we were on a line for the ferry, he duped me with an excuse and ran off to get the name of the shop so he could call when we got home. Oh, what a joy that was. Doug once gave me a pair of Raggedys in a little blue chair. I remember that he told me when I swooned that he had walked into a shop and said " I'll take it - chair and all." Those dolls live in a very special place.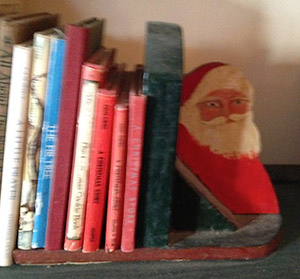 Karen and I had a spirited Christmas shopping jaunt in Greenwich Village years ago and we saw a set of bookends - wooden handmade Santas - which we drooled over. They were expensive. She called her brother and they pooled funds and I almost fainted with delight when they were under the tree.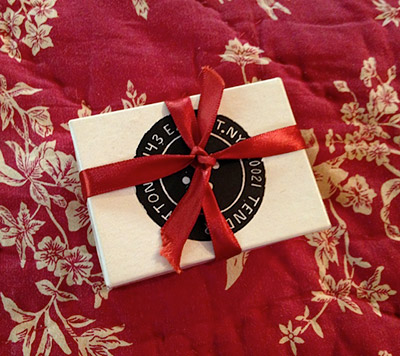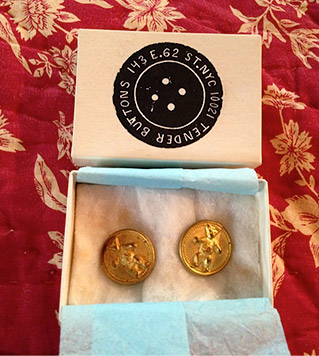 My friend Ginny who died two years ago, was a great gifter. She once gave me a tiny box from Tender Buttons in NYC and inside were a pair of old brass teddy bear buttons. I was gobsmacked. What a gift!! I have them in a treasured spot, still in the original box, with the Tender Buttons sticker and the red ribbon. I miss you, Ginny.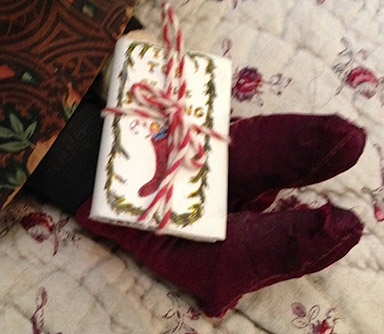 Scott Cook sent me a totally unexpected gift too: a copy of a miniature Christmas book by Palmer Brown called "The Toe of the Stocking", joined by a pair of 19th c fabric doll shoes. Talk about hitting the mark...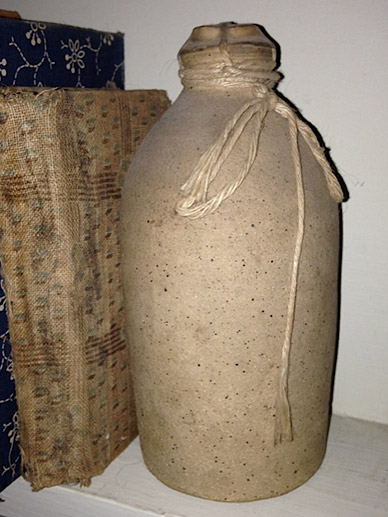 Now, this beautiful, small, hand thrown pottery jar may seem humble, but it surely is one of the most meaningful gifts ever given to me, because it literally changed the direction of our life. The gifter, many years ago, was my dear friend, Jane Bescherer, a beautiful woman with supremely exquisite taste. I remember clearly that she told me she found it at Zona in Soho, a shop which had set a standard for quality in rustic objects. The jar is filled with vinegar; it is sealed with natural cork, a layer of beeswax, and then tied with linen string. I stared at it, blown away. Simply beautiful. A tag hung from the neck of the jar : "Made for Grafton Goodjam by Elizabeth Brown, Acworth, NH". The jar led me to Grafton, Vermont, to the jam and vinegar lady, and that lady drove me to Acworth to meet Elizabeth Brown. Over hill and dale we went, with Mary chatting away as I sat there thinking - "Where am I ? " This rural area was beyond description, as though time had stopped and we were transported back to earlier times. Elizabeth lived in a rambling old barn, and her aesthetic was beyond pure. She really LIVED the life. That was my very first trip to Acworth, my own Brigadoon, and the town which years later we finally rediscovered (and it is hard to find!) and led us to the realized dream of living in NH. So... a simple jar changed everything, and here we are, these many years later, in our beloved NH, with the pottery jar on a shelf in the parlor. Elizabeth and I became close friends and a few years ago, she left us, in her own special way. (When she lost her lustrous long hair to chemotherapy, she donned a little, early white sleep cap, tied under her chin. She looked like a 19th c baby.) Little did Jane know and little did I. A gift can change the course of everything.
And, lest I forget, that Christmas in the 1940's when there was a brand new Schwinn red bicycle next to a childhood tree. How did they spirit that thing past my pre-Christmas gift search?
Of course, we all know it's not about the gifts. But, thank you all, I have loved every minute of the surprises and delights of Christmas past. Love comes in many ways. I'll take every drop as the "...days dwindle down to a precious few..." Merry Christmas to all you lovers of old things - things which have served many centuries of delighting our ancestors, and keep on giving to us.