January 2015: The Season of Darkness | Notes Archive »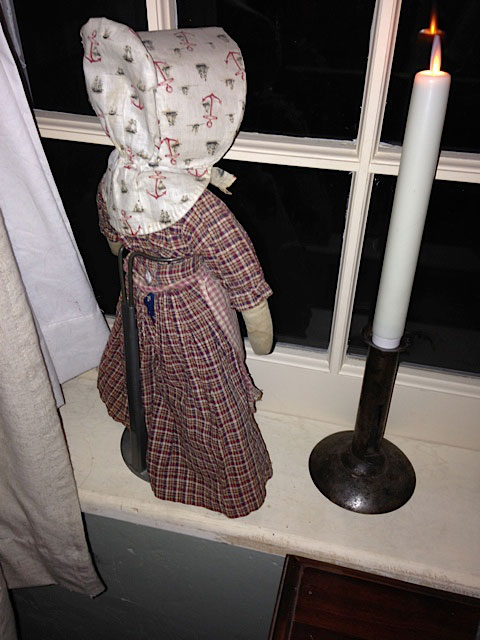 It sounds dramatically dreary; but, really, it isn't. Darkness. Certainly when I nested in the tiny village of Acworth, dark had a deeper meaning. After the sun went down, there were tiny specks of light on winter days - the candles in far-off neighbors' windows, the streetlight up past Fay's on Lynn Hill. But… it was black outside. Here in the village of Walpole, we are surrounded by close neighbors, and the dark is shattered by the interior lights of people going about their lives. At the moment, several of Middle Street's occupants are not at home. There are the "snowbirds" who seek warmer zones, and our dear next door neighbor, Dick, was taken to the hospital before Christmas and is recovering there still. We fondly call our tiny house "The Thimble". So…presently, the Thimble is the beacon of the street. Soon we expect things will brighten up as folks come home.
I love winter. Some speculate that winter's children are happier at this time of year, and my parents reminisced often about the big snow storm which arrived with my birth in January of 1941. I have never researched that; it's family lore. I can close my eyes and be instantly transported to the perch I chose at the window in my parents' bedroom when snow began to fall. There was one of those tin radiator covers next to the window - perfect for small elbows - and I would watch for the arrival of my father from the train. As soon as he landed and shed his snowy overcoat, hat and galoshes, everything was fine and snug. That's the word, and it still casts a spell in stormy weather.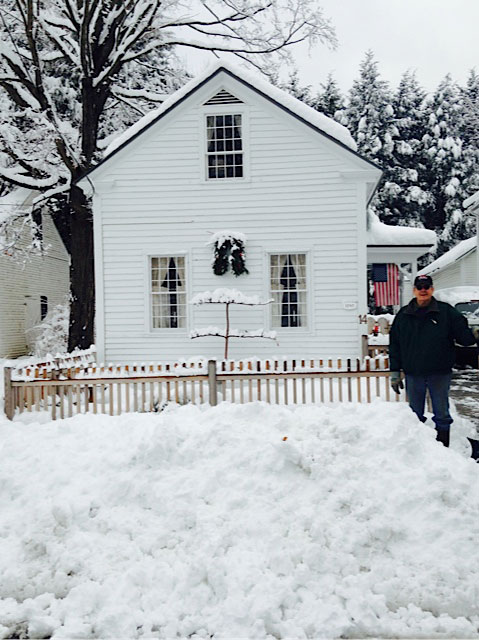 Eno's late afternoon arrival home from his barn/shop in Acworth with the three dogs is the signal that all is well and we can settle in for a winter night. When I was little, my father would encourage me to help with the shoveling, and what a joy that was. Eno and I think that we had much more serious snow storms when we were growing up. There were painstakingly constructed igloos and monumental sledding hills, and daunting snowball fights. Maybe time has glorified those snow events, but we choose to think they were significantly more exciting and we were blessed to have lived them.
Winter meals are a rich source of pleasure at home. One wants to be near the hearth and in the best company - the five animals. Tonite we had Welsh Rarebit with beautiful fresh asparagus and a baguette from Burdick's Grocery. This week there was a really nice, simple but flavorful marinara on fresh ravioli; pan sautéed swordfish with roasted sweet potato and a veg medley; an old and beloved recipe for oven barbecued chicken with sticky rice; and a shepherd's pie made with ground beef, chili sauce, onions, garlic, basil and a big splash of red wine - topped with a cloud of mashed potato, with a side of fresh green beans. We haven't even been tempted to go out for a meal at night. If any of the above sound tempting, email me for recipes.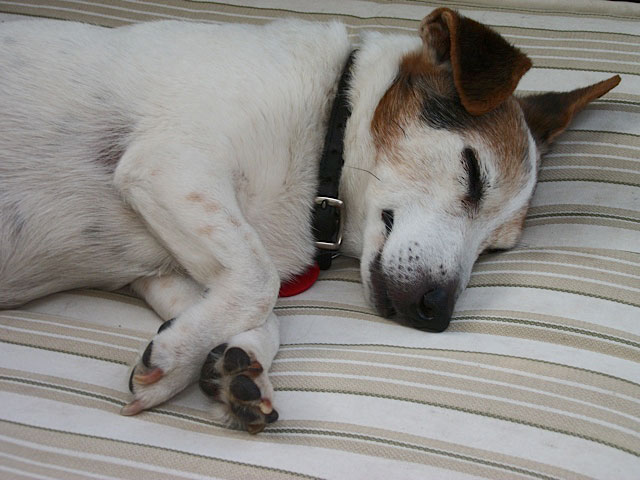 So…the busy days of Christmas slip away as the decorations go back into our garret storage and we get used to a new year when we write checks. Eno and I celebrate 2015 with our 25th wedding anniversary on Thanksgiving Day. We are humbled by the gift of those years. Our Jack Russell, Annie, will be 16 soon - another milestone. As we celebrate every moment with Annie, we salute all the cats, dogs, horses and sheep who have been the mainstay of home for us. We look forward to two fifteen-year-olds among our grandchildren, who spent a few days with us before Christmas. Pure joy. We must see more of them.
Of course, home is enriched by all the old things we have assembled around us in this little house. Nothing warms a home like sweet old things. The stage is always set with warmth when we are surrounded by antiques.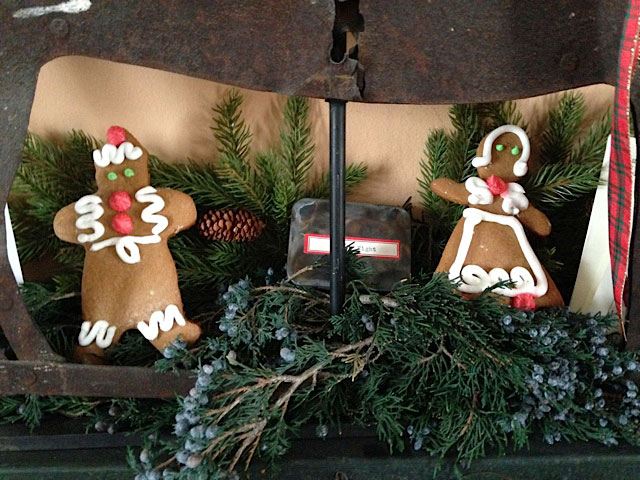 My warmest wishes to you out in cyberspace. The feedback from these Notes sustains me and I am very grateful that you take a look now and then. Celebrate the people, animals and things you love as we begin another journey through the year.