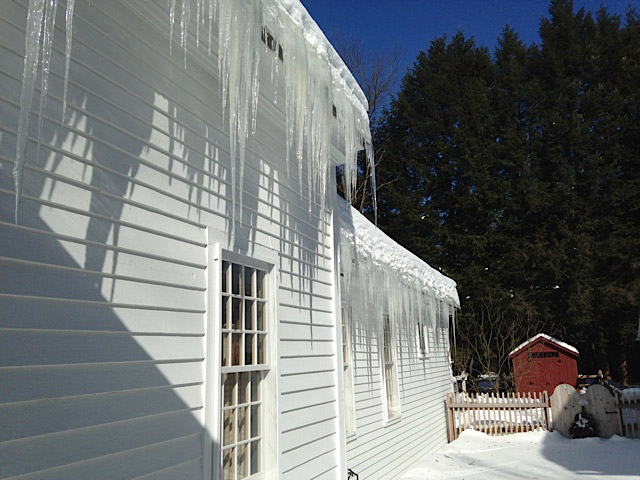 Biblical ice in February 2015
It is March, and the very beginning of the end of a momentous winter. There are still several feet of snow on the ground, and the ice, which held on to the edges of the roof with an iron grip, finally slid off a few days ago in a thunderous and cataclysmal rush. I heard it and said a prayer of thanksgiving that I was in the house. It did hit the poor Subaru and left three big gashes.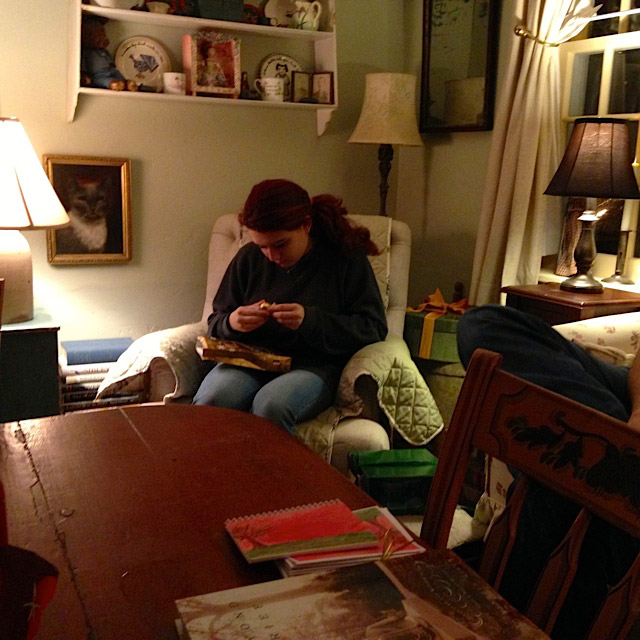 Loretta opening her gifts just before Christmas
These chunks of ice are like the ones we see in old photos when our ancestors harvested them for refrigeration. They weighed 75-100 pounds each. Most of us have never seen their match.
I have always been a happy winter person, but even I have had enough. We've had all the pleasures of winter fires, cozy meals, and quiet evenings spent upstairs in the sweet little garret where the heat rose and settled. Now we have sprung ahead on the clocks and it's time for light and sun. Spring in New Hampshire. There is nothing quite like it, and, as I have said before on these pages, the older we are, the better it seems.
Friends have meant so much as we gallantly forged through the cold - neighbors coming for little dinners and breakfasts, conversations by the hearth, catching up out in front of the house with passers-by, barely identifiable, snuggled in scarves and hats as we all make our way to the village, where, thankfully, there are the very best provisions. Nothing like Burdick's baguettes with a bowl of homemade soup. I have never been to France, but people who have tell us the the local baguette is better than the real thing.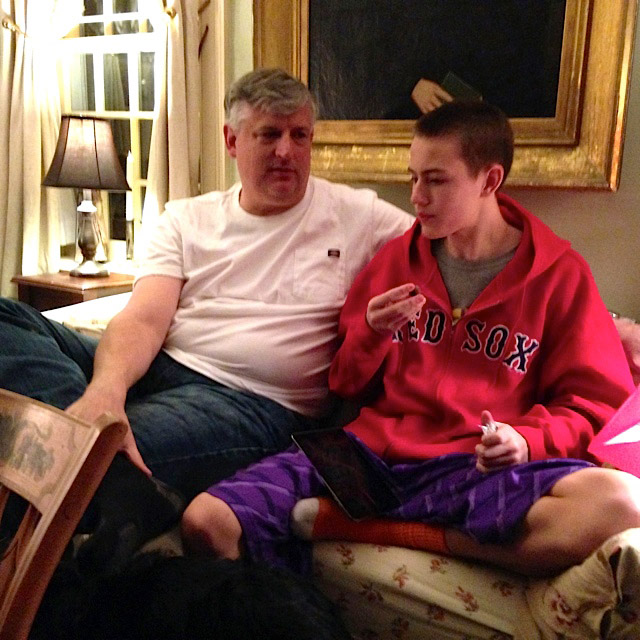 Doug with Jefferson in the Walpole parlor, just before Christmas 2014
And… the blessing of time, winter afternoons which I have blissfully spent with two very new women in my life - good, solid women who are smart and love to read and write and especially love to laugh. We met every two weeks or so and are so bound together that we can't believe our good fortune. This bit of luck and sanctifying grace has made a deep connection for me, and Walpole has become the galvanizing point for incredibly gratifying relationships.
Dear, darling Ted, found at Cabin Fever Show in VT, Valentine's Day 2015
There is a real payoff for the months and months of struggle associated with the move from Acworth. Sadly, my time there yielded very little in the way of friendship. So… my soul has been fertile for the beauty of the gift of friends.
As I take the winter candles out of the windows, which gave the little house such definition and warmth in the dark, I take stock of all the good things that have come our way since fall merged into a brutal winter. I weathered two cataract surgeries with the support of my amazing husband and the team at Cheshire Dartmouth-Hitchcock, headed by Dr. Lawrence Jaeger, one on Oct 30 and the other on Jan 22. Somehow the indefatigable human spirit plods ahead. I have been working hard, scouring the vicinity for fresh finds, and have had some extraordinary good luck. Today the front door is open so that the kitties and I can have some early spring fresh air. Can't help but dream about the garden and what tender shoots will emerge, and what new directions will reveal themselves in this Walpole life. Happy, happy spring to you.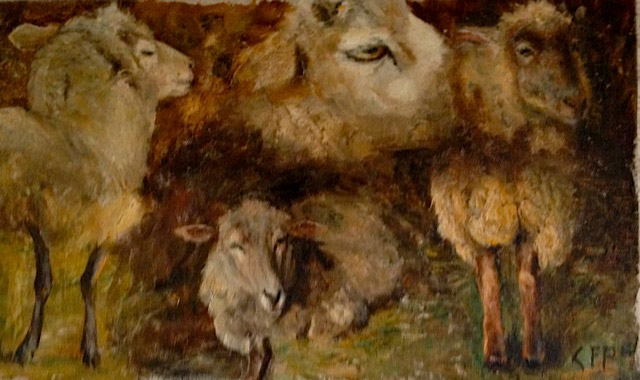 Study in oil of spring sheep by NH artist
Charles Franklin Pierce, 1844-1920