Spring has brought uncharacteristic winds to Walpole this year. Even on very warm days, there is a breeze for company. It's fun to hang the clothes and see them blow around on the line. The flower heads bounce around and the boughs of the huge hemlocks wave dramatically. Spring and summer are New Hampshire's rewards to its stalwart settlers.
Well, it's back into the little garden, not only for our enjoyment but for the many people who stroll by on Middle Street. The monumental storms of winter left some unpleasant memories behind in lost plants, but many things survived and are thriving. The chipmunk who, with his ancestors, we are certain has lived in the basement for decades (this house stood empty for many years) has emerged and chirps just outside his "front door" as I work.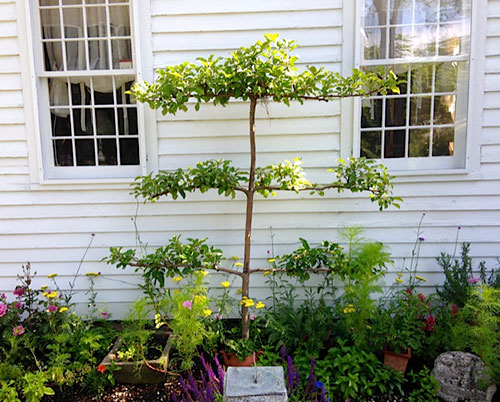 I bless the plants that have steadfastly withstood the wild winter storms, especially the Fugi apple espaliered tree, which is the anchor of the garden space.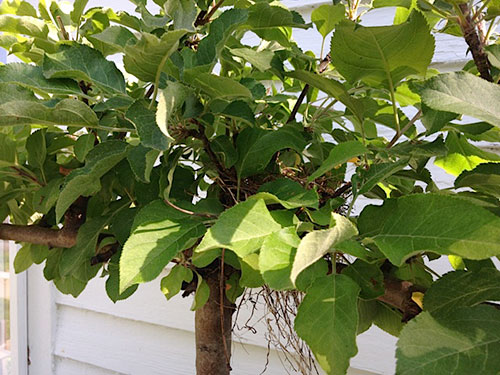 To our delight, a pair of house finches has nested in its branches. Nature bestows one of her most enchanting gifts with a nest of birds. Acworth gave me the company of countless robins, catbirds and chickadees. Our town cottage here in Walpole now gives us these darling finches.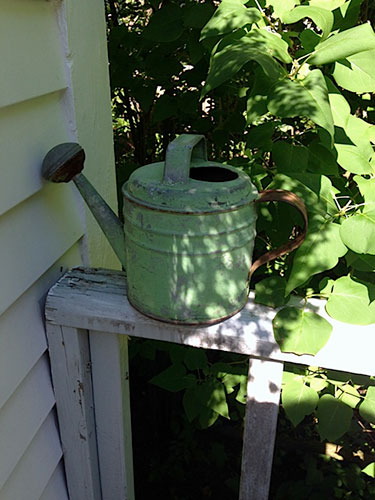 I have never "felt" like a real gardener, but faked it all along from our first house in New Rochelle, NY, in 1965, right through the Acworth house. The years in North Salem, NY, were a monumental challenge, way beyond the scope of my abilities - terribly rocky, unnourished soil, never cultivated. We tried valiantly, but on a tiny budget, and no deep knowledge, it really was a failure. Every other garden claimed ownership to a previous owner and I now realize that I always struggled to make work what had been the dream of someone before me. Here in Walpole, this garden is ours. We designed it and we know its bones and that is all the difference. It is also small - the magic word for us. We, who always like to adopt puppies much to the consternation of our rescue dog friends, should have realized early on that we need to start from the ground up. Puppies adjust head on to the life here - cats, other dogs, lots of strangers. Gardens need to start fresh with us too. We love this one.
After the tragic loss in early May of our 9 year-old, seemingly thriving Australian Shepherd, Kipp, nature is deeply restorative. We all pass, but something wonderful takes our place in the enchantment of nature. We will miss our Kippy as long as we live (see NOTES, Spring 2015), but will attempt to translate sorrow and grief into renewal through other aspects of the natural world. This honors his precious memory.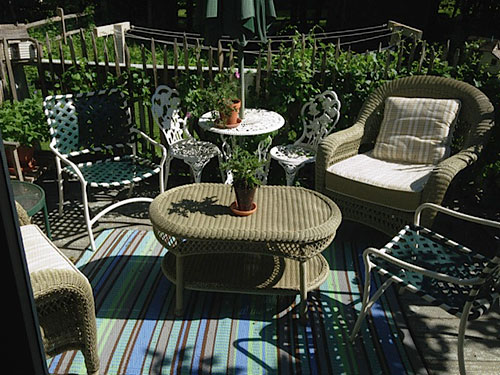 We spend many hours on the tiny deck attached to the back of the house. There's just enough room for 4 or 5 people and a few dogs to enjoy outdoor refreshment. Town life is so interesting after all the years in the complete solitude of our place in Acworth. Today a funeral was held at the Congregational Church next door, so people parked up and down the street and we saw many friends from around Walpole. Last night was "Burger Night" at the Tavern, around the corner - a great burger and fries for $7.00. Walk to everything from our house: library, doctor's office, post office, great grocery, convenience store, restaurants, banks...
Isn't it interesting how the antiques we use change with the seasons too? Everything gets lighter inside the house and the garden stuff emerges outdoors. I put some of the dolls and toys into safe storage for the summer so that when I unpack them it is a delight to re-acquaint in the fall. Life turns its head to the windows and outside as summer settles in.
I hope you are finding renewal and joy in the beauty of summer.