New Aussie, and Words for Winter 2015-2016 | Notes Archive »
Lizzie, born 4/23/15
We mourned so deeply for Kippy, our 9 year-old Aussie, who died suddenly in early May of what we guess was a catastrophic heart event, that we have had a terrible conflict regarding another dog. "We're too old !! Too tired ! Don't have enough patience. Want our freedom ! which we have never had in all our 34 years together. It was always home from wherever in time to feed the animals - hating to leave them when forced to do so for business or family events. We have too many - always. Annie, our Jack Russell, almost 17; Maddy, 4 year-old Aussie; Polly, grey cat acquired as a kitten in 2001; and Boo Radley, boy cat, born 2012... Well, restraint to the wind, we have a new 6 month-old female, blue merle, Aussie pup, Elizabeth the First, aka Lizzie. Crazy, but we can't live without them.

A darling friend, who took a male out of the same litter, and daughters Karen and Gina, have all offered to take whoever is left if we go before the pack. Can't ask for more than that.
So after the yin and yang of several months, our own hesitations, our breeder wavering about letting this particular pup go (she's pretty possessive about her dogs), Lizzie decided that she wanted to come here, and that means we all have to rise to the challenge. Lots of busy days right now as she learns the ropes, but the animals here outnumber the humans, and the routine is vital. Maddy has another Aussie to play with, and we, who have always had a pack, are feeling crowded and comfortable in a weird way. Loss and gain. There is no replacing the ones we lose, but there is then the opening to love another. And that, friends, is the miracle of animals.
~~~~~~~~~~~~~~~~~~~
Words for Winter
I love winter. It drives my husband and lots of my friends crazy, but when the first wild winds howl, and the skies threaten snow, I run for home, start a fire, get a hearty soup or stew bubbling, make sure the book pile is refreshed, and hunker down. It's wonderful to live on a neighborhood road, because the life of the town, though toned down, never stops. The lighted windows in the other old houses is warming; we are here for each other. If one is inspired to make a special meal, the ingredients are at hand, right around the corner. And there is always a friend to see in the village at the post office or bank, for a quick visit, which fills the bill for human interaction. And, at home, there are cats to curl up with, under a quilt. And it's quiet - no air conditioners or fans roaring. Vermont Public Radio provides the background with early music.
And, of course, we have Thanksgiving and Christmas to distract us from the short days and long nights. Eno and I celebrate 25 years of marriage this Thanksgiving Day - 34 years of our relationship. We feel incredibly lucky. Who could know that when you find love in mid-life you will be blessed to have that many years together ?
I take a minute here to acknowledge our friends, who dared to support such a huge and risky life change for both of us. Thank you, dear people. We hope we reward you for your loyalty by simply being together, so happily for so long. And... we bless our four children and their spouses, who have loved us and given us the freedom to celebrate life in our unique ways — mostly with abundant animals, daunting moves (like the one in 2000 to NH), auto racing days, horse keeping and jumping, lovely sheep and other perceived crazy adventures. Doug and Marie alice, Gina, Karen, and Katie and Sal: Thank you, loved ones. We plan a roasted turkey and the trimmings here in the Thimble, just as we had in North Salem in 1990. Remember when we ran to St Francis Church in Stamford, CT, to have Richard Mayberry marry us, then rushed home to take the turkey out of the oven ??!! Happy Silver Anniversary to my very beloved husband.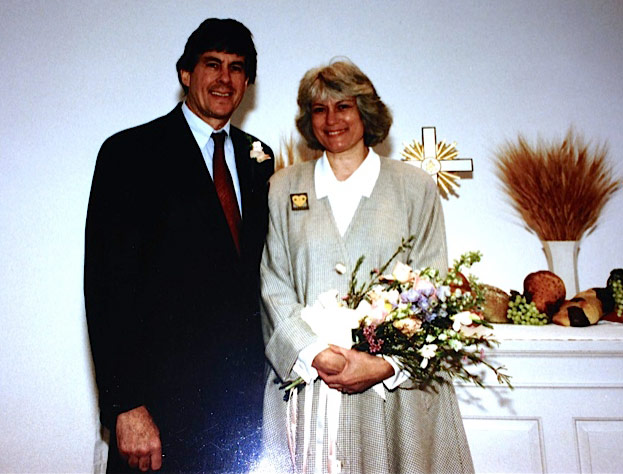 Kathy and Eno, November 22, 1990, Thanksgiving Day
Christmas
Fresh greens and the scent of pine - wood fires — friends for cozy little gatherings — delicious, seasonal meals with winter desserts — gaily wrapped packages with small thoughts inside — festooned dolls and antiques to remember the past and traditions — all conspiring to brighten the darkness and celebrate the One who came long, long ago.
Refresh your inner life as winter usually provides the time. The antiques we all love surround us with the warmth and reassurance of long-held tradition, beauty and timelessness.