February 2016: Is This WINTER ?? | Notes Archive »
Is This WINTER ??
Sure, we have a measly bit of old, dirty snow on the ground, and we have donned wooly mittens and scarves over the past few weeks, but...... this is NOT winter in NH ! My son and his family in Burke, VA : now they have had winter. Please tell me that no one doubts climate change ! Old habits like winter do not die; we still put our snow tires on, fill our oil tanks, keep the wood pile stacked, cook winter stews and soups and linger near the hearth. It is supposed to happen, and so we follow the normal routine.
On days like this with the sun shining and the sky the bluest of cerulean blues, with the Primary exactly a week away, Walpoleans are gobsmacked. We have a new sheepish look about us when we greet each other. "Is this real?" Winter sojourns in Florida seem just plain silly and while the skiers from down south valiantly shoot up here on Fridays for the manufactured snow - even as far as Stowe - they seem to be rushing back down on Sundays earlier and earlier in the day. We do mourn the loss for our beloved ski resorts and country inns, but we also feel a sense of relief mixed in with a really peculiar form of depression, rooted in missing something very important. WE are the brave and stalwart denizens of snow and ice country. WE are the hale and hearty New Englanders who take pride in braving the worst elements imaginable. Aren't we ???? Hard to support that theory when the grandsons send videos of literally diving into snow piles almost as high as car roofs. Oh well, like the old Brooklyn Dodger motto, wait til next year.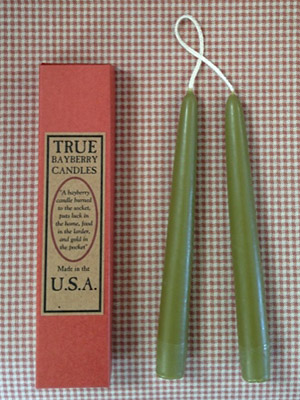 Well, antiques are wonderful any time, and this year it has been easier to get around to find things. Shops are buzzing with activity and good stuff is popping up without the usual wait til early spring.
Please note that I am now offering my favorite Bayberry Candles on this site. They are truly lovely and are priced at $14. a box until I get my sealegs about shipping cost. That is a real introductory offer, friends! Be sure to read about them on the Candles page. They are a tradition in America which goes back centuries, and I think we offer the nicest ones available. These are the very candles one could purchase on Nantucket in the old Four Winds Gift Shop decades ago. We are proud to be carrying them.
So even though it is balmy today, I created what looks like a lovely homemade Tomato Soup, now in the crockpot.
Kathy's Homemade Tomato Soup
4 T butter
1 sweet onion, chopped
a few small carrots, chopped
1 clove finely diced garlic
some celery tops with leaves, also chopped
Fresh herbs - rosemary, thyme, oregano, basil - chopped finely
28 oz can of crushed tomatoes
smaller can of petite diced tomatoes
appropriate amount of good chicken broth
freshly ground black pepper
cream to taste at end
Saute veg in the butter, adding the herbs at the end so they warm, but don't cook.
Place all ingredients in crockpot, heated to HI.
Cook for an hour or so, and then reduce to MED or LO and let it go while you do other things.
When ready add some cream to bliss it up.
I am serving with fresh, grilled foccacia and a little butter lettuce salad.
Wherever you are, have fun during the months before the real springtime comes to us. A sweet little meal and a bayberry candle make a lovely setting.