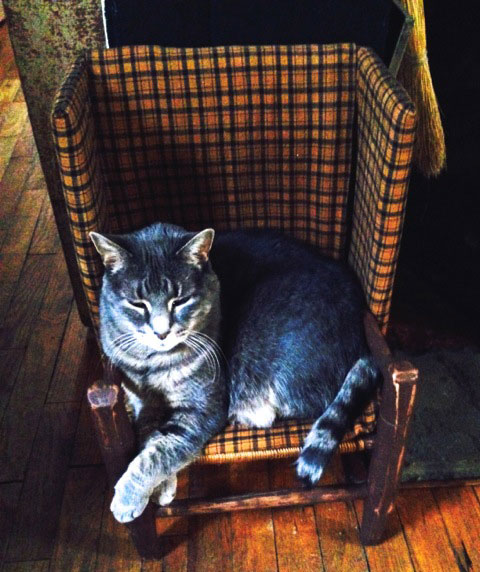 Polly
On a beautiful Saturday, the one just after 9/11, we visited a little village fair in Alstead, down the road from our then home in Acworth. A young woman from Acworth was roaming the show with a darling grey kitten (Acworth is known for a plethora of grey cats) who was up for adoption, and with us still in the halcyon days of brash animal acquisition, we fell in love. Polly came to us, and from day-one, she bonded to me so deeply that most of the time she attached herself to my neck, where, if she hadn't been invited to leave, she would have nestled and kneaded all day. That continued until June 21 - last week - when I had to let her go to where I deeply hope I will meet her again.
So we sadly add Polly to the incredibly long list of beloved animals we have outlived. Oh, the sense of loss is beyond description. I guess it is cumulative. Since 1982, Eno and I have suffered the loss of: Cats- Scooter, Puffy, Jesse, Frank, Gatsby, Kit-Kat, Blackie, Jane, Tiggy, and now, our sweet Polly. Dogs: Beauregard, Meggie, Django, Teddy, and Kippy (last May 7th, 2015). Horses: Munich, Liberty Hall, and Dusty. Every one of them precious to us and mourned to this day. It's primitive to a lot of people, but how could a just God not make a place for them in Heaven?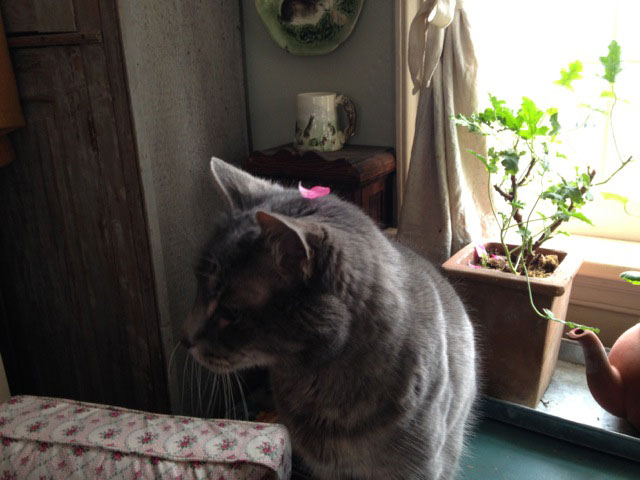 For those of us who keep animals as the centerpiece of life on earth, there would be no reward in an eternity without them. I always whisper as they go to the next realm that I hope to see them again, and that the others who were their companions in life, are there, on the other side, to welcome them.
For those among you who know of what I speak, we are a community of grief, but the joy they have imparted has enriched us in so many ways. I have learned the definition of "living" from our animals, and my love for Eno has multiplied ten-thousand-fold as we have shared the joy and sadness of animal-keeping. I call him our own St Francis —this strong, powerful man who is so tender and kind to our pets.
Fare thee well, darling Polly, until we meet again.