We did have a white Christmas, and that is always lovely in New England. After a recent snowfall, I went out to inhale the glorious air and found so many works of nature's art around our house, including the tiny snow caps on every picket on the fence around the garden. No Hollywood set designer could have created the wonder of that! I am not very familiar with Buddhism but for a moment I understood "living in the present". Our town is decorated with white frosting, and I have always felt that the break from "brown" is part of winter's magic. There are the challenges, but we are better for it.
| | | |
| --- | --- | --- |
| | | |
Walpole celebrated in its usual wonderful fashion, highlighted on Christmas Eve by the live Nativity on the Town Common, biblical excerpts narrated by our own Ken Burns. Carols were sung, the grammar school winged angels paraded around, as did the shepherds (with sheep and Jersey cow) and wise men. This year the baby had to be played by a doll, because the chosen infant was with his parents celebrating the first night of Hannukah. That seemed so special. Our tiny house is literally around the corner from the site of this event and so all it took was a simple walk to be a part of it.
| | | |
| --- | --- | --- |
| | | |
All our children were otherwise engaged and so we had our own little roast beast dinner with Eno's mashers on Christmas Day. More unexpected magic of the season — the quiet and serenity of being just the two of us, with the deep companionship of our animals, now only the two Aussies, Maddy and Lizzie, and Boo, our exceptionally great cat. At my age, almost 76, and Eno's, almost 80, we are determined to keep the pack as it is with no additions. Whether that will hold is the $64,000. question.
The Christmas mantle in our tiny parlor was decorated with my family heirloom statuary — three choir
children and two angels, bought by my parents in the 1920s. It was a celebration of the fact that with my sister's death in 2016, I am the only remaining Synnott who slept in that house on Rich Avenue, in Mt Vernon, NY, for all those Christmas seasons. They are all gone, and I am the one left here to remember. Here's to Jim, Rose and Joane ! I will always think of you. Our depth of feeling for Christmas is rooted in childhood and my parents and sister had great Christmas spirit.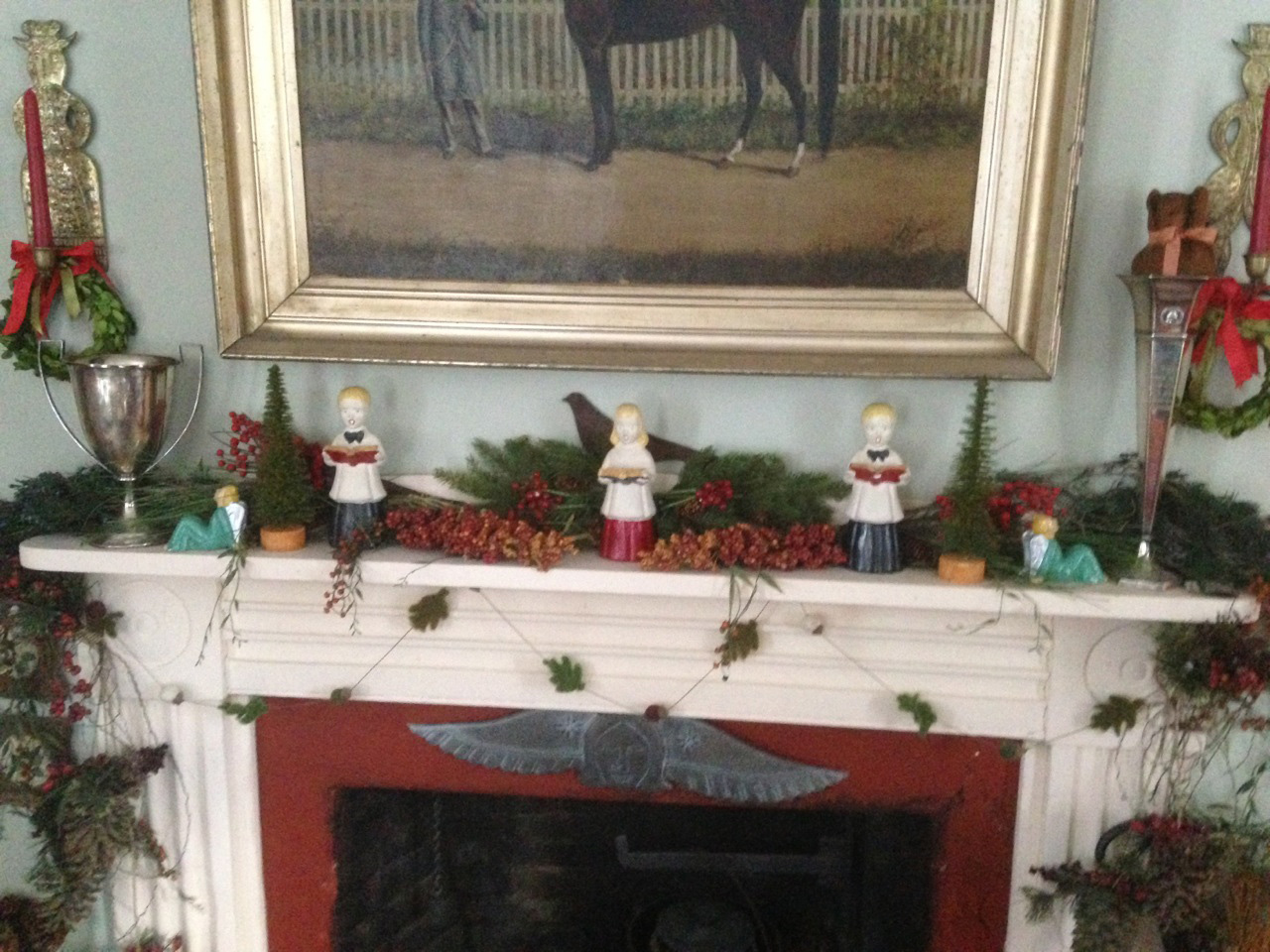 It has been so rewarding to find special antiques recently to offer in my very tailored and redesigned business. In the earliest years of antiquing, I scoured the 50 mile radius around New Canaan, CT, so that I could be home for the school bus. Now I am finding a similar method: If carefully combed, the area around home yields amazing finds. We all get our share in antiques and life !! Look carefully and it's there.
So… please check out my Cloth Doll page on this site, and www.digantiques.com to catch up on my new discoveries. We don't collect; everything is for sale.
Sending out my warm wishes for the dark season.