I have made my annual first trip to Walker Farm in Dummerston, VT, to purchase the most important element of our little garden: Verbena Bonariensis. It is a strange plant which I discovered years ago in a photograph in the Boston Globe of a field of it at Canterbury Shaker Village in Canterbury, NH. It was love at first glance — a towering (if left "unpinched"), gawky, spiky plant with a small ping ping ball-shaped cluster of heavenly dark lavender tiny flowers at the end of the stalk. I put it around the inside of the picket fence and those little mop tops bounce and delight all summer long. I do not favor splashy bloom in the garden, but love the subtle old flowers with their sweet understatement. I am leaning toward more annuals this year because they are so rewarding. Soon the Cosmos will join the Bonariensis and more waving will ensue. Will do some research on more varieties as the season progresses.
The pollarded Fugi apple, our centerpiece, has survived another winter (I really pray for it!) and there are even a few blossoms emerging. This brings echoes of the gardens at The Cloisters back to me, and days spent there in the medieval gardens overlooking the Hudson River.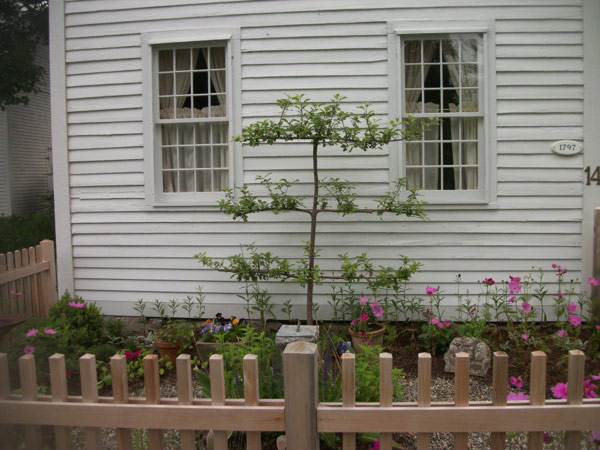 There really is no place like The Cloisters for those Catholic school girls like me who became steeped in the middle ages before we knew what was happening to us: those stark chapels, stone passages, herbs and plants, not to mention the music. My favorite time of the week is from 7 AM to 10 AM on Sunday mornings, when Harmonium and Sunday Baroque air on Vermont NPR. The first hour is the really early stuff — not for the feint-hearted, and then they progress to the more recognizable music of the 17th and 18th centuries. In the 1950s, the Holy Child nuns, led by Mother Mary Joan, who had the voice of an angel, schooled us in chant. I close my eyes and see that tiny woman, with her habit cape thrown back over her shoulders, raising her arms to energetically rouse us in Gregorian Chant, in the choir loft of Sts Peter & Paul Church in Mt Vernon, NY. Of course, I couldn't have known then that it would resonate in my life continually, and that she would spring to mind with more love than I can describe. Thank you, MM Joan, wherever you are, and I think I can guess!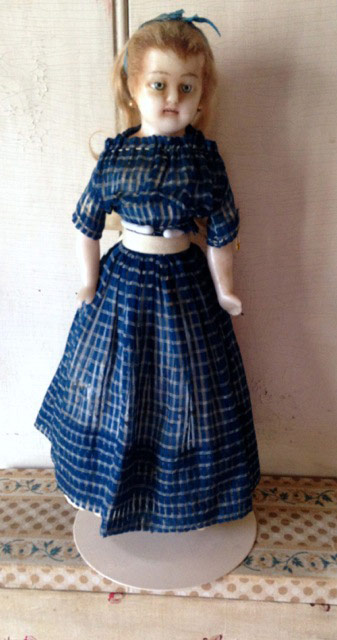 The blissful awakening of spring touches the soul of the antiquer. Off I go on buying forays, more far afield than they once were. How we love to forage for wonderful old things! I have recently found a beguiling old wire, working child-sized wheelbarrow, a wooden bird tree, a truly engaging sampler of tiny braided hair wreaths, a heart-shaped knitting needle shield, and, of course, a few choice dolls and toys. I have also found a wax doll, not my usual choice, but am reading a massive biography of the Bronte family. A few years back, I owned a wax doll with an old, old tag attached which read "Jane Eyre". It sold at the NH Dealers Show one year and since getting deeply into the Brontes, who owned wax dolls in childhood, I have regretted selling my "Jane Eyre". My commitment is to early cloth dolls, but somehow this newly acquired doll has captured my fancy. Dolls instantly transport us into the past, with their mysterious and expressive faces, human hair, and, chiefly, authentic period clothing. Those of us who favor cloth should always keep in mind that yesterday's children usually favored "boughten" dolls. They were fancier and more like real people. The Brontes were a profoundly creative group and made up imaginary countries, full of characters who had amazing adventures. Jane Eyre ll is happily presiding over the bedroom where I do my reading.
We have to look for them, but joys abound.
Please revel in the new birth of Spring 2017.
Thank you for the feedback. J.P.'s comments were gratefully received recently. We all need encouragement.