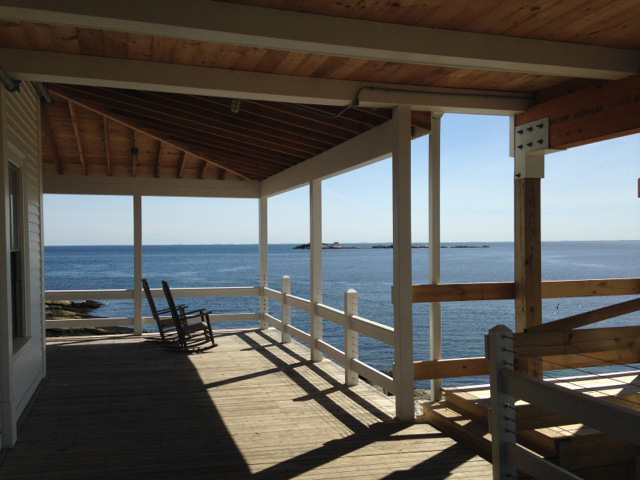 Porch at Star looking toward White
This is the side porch at the great Oceanic Hotel on Star Island in the Isles of Shoals, Atlantic Ocean, off Portsmouth, NH, taken in May, 2017, pre-season. The view is toward White Island, where Celia Thaxter lived with her family when her father was "Keeper of the Light" there. She later set up her famous salon on Appledore Island, right nearby, where she created her Island Garden, painted by Childe Hassam and celebrated in the book of the same name. Emerson and Hawthorne were also frequent guests at Appledore. These are austere islands, but, once experienced, you are forever in their thrall. After a few days of less than delightful bath facilities, skimpy bedding and toweling, general profound rusticity, one ponders the desire for a return visit. But... "You will be back!!!" As one pulls away from the island on the homeward voyage, the deep attraction engages again, and the next visit becomes vital. I have had the happy privilege of fulfilling this "bucket list" wish, and it seems that no amount of deprivation will keep me from returning. The romance here is reality; a deep understanding of the needs and wants of our ancestors in the 19th century. Apparently gazing at God's remarkable sea and sky was plenty for those old shoalers. It will be enough for me. No shopping; no dining spots (well, yes, the communal dining hall, where paid-in-advance meals are served), no easy connections to the world at large, no radio or tv, ...Stripped to our core. "Star Light, Star Bright, I will sleep on Star tonite." This island has been adored and preserved by many, many deeply committed visitors since the 1800s and it is where my soul engages totally with the core of life. Aside from the beauty of nature, Star attracts the most amazing people who remain with one long after the visit ends. It happens every time and is another aspect of the yearning for the island long after one has reconnected with the mainland and life as we all know it has resumed in all its fury.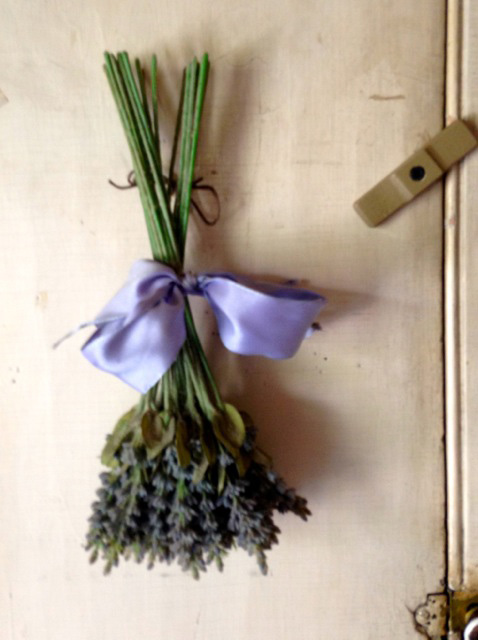 In memory of the Jay Sisters, New Rochelle, NY, 1940s
Summer is here, after a cool and cloudy spring. Every year the garden has a totally different look. Small is the answer for me. I mourn the things lost over the tempestuous winters and try to avoid them, replacing them with the hardy varieties who survive. My nemesis: lavender. Can't resist it, though every year I'm lucky to see one lonely sprig emerge. Here caution goes to the wind, and new lavender is purchased, with the full knowledge that it will not poke up next year. Oh well, it's like an annual; have it for the fleeting pleasure and be done with it. Lavender has strange resonance for me. As a child, I hated clothes shopping, and my mother was particular. Every year, she renewed her pleading to visit the "Jay Sisters" in New Rochelle, maiden proprietors of a lovely little girl's dress shop. Oh, how I hated that trip and the ensuing trying on of clothes. Yes, I was a beast. My mother aways prevailed, however, and the poor Jay ladies had to survive another visit from me. Now, here is the strange part: The shop smelled of lavender, and, as a parting reward (undeserved!), I was given a tiny sachet — a lovely calico ball filled with dried lavender, and tied with ribbon at the top. I even recall that the edges of fabric were pinked at the top. The human memory is so peculiar. Did I really hate that trip or did the darling little sachets become so dear to me that the little things mitigated the pain? Obviously, the rustlings of the country and collecting tiny treasures were in my heart. Oh, I wish I could apologize to my poor mother and those long-suffering Jay sisters for my horrible behavior. That memory makes me feel ancient because a shop like that could never exist in today's world — except perhaps in Palm Springs or Rome. Even then most likely, two maiden ladies would not be the proprietors. The 1940s were unique, having the last vestiges of Victorian proper style.
Life now centers on the outdoors, and antiques which are impervious to summer elements — a cement sculpture of two hedgehogs on a sofa (yes, really); a favorite cement pie with two big birds perched on top; the various precious pots, renewed with this year's choices of plants; the outdoor chairs and tables; all having been in the shed for the winter. One can almost hear the sighs of relief as they take up residence outdoors. Aren't the seasons a miracle? Can we ever really imagine sunshine's pleasures when we stare out the windows at the desolate January landscape?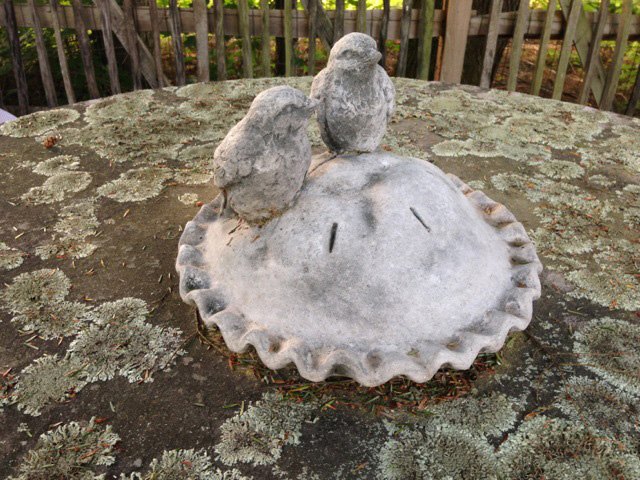 Outdoor pie
The antiques pile up here on the parlor table, where they land after discovery at some haunt or another. Right now there's the bittersweet Lazy Susan (see photo and description on my site on Dig Antiques); a beautiful McCoy Pottery colonial revival bean pot with lid and ladle (Dig again.); one or two dolls fresh from "the woods"! ...There's always something newly acquired.
"Summer afternoon, summer afternoon…to me, the two most beautiful words in the English language." Henry James.
| | | |
| --- | --- | --- |
| | | |
| A cake for Eno | | Eno with Boo |
Must mention my wonderful husband, Eno, celebrating his 80th birthday in July. We are into our 37th year together and neither of us could have imagined reaching this milestone. He is my hero, my touchstone, my very best friend ever, and the love of my life. We mark his special day embracing all our children and grandchildren, the multitude of animals - cats, dogs, horses, sheep - and friends, who have enriched our life together. It's a huge circle of love with him and his goodness at the center.
Join me in the lovely sojourn of summer.