Summer sadly wanes, or is it sad?
Truthfully, I can do very well without the humidity… and the unpredictability of garden-affecting weather. To water or not? This season has been a challenge. I do love flip-flops, and subtle breezes and lots of sun tea. And clothesline drying. And huge pots of pink impatiens billowing out of their containers. And, yes, burgers on the grill. There are summer pleasures, but the change approaches and it brings its own delights.
As we add up the months, our friendships deepen here in Walpole. A blessed familiarity settles in and it becomes home. More people visit this tiny house and find a treasure or two to buy and that has been the most lovely surprise. I certainly don't promote the business here, but people pick up on the local chatter, and despite my understatement, somehow buyers find me. I guess almost 50 years as a dealer means something after all!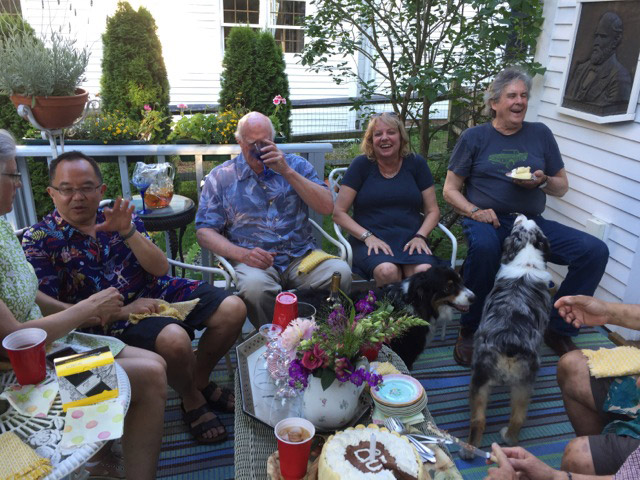 Birthday guests and gifts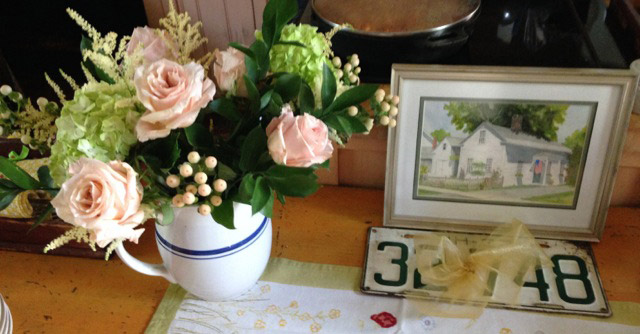 Summer 2017 delights included my beloved husband's 80th birthday celebration and a happy visit from my 2 children — Doug and family coming from Virginia with their adorable dog, Kirby, and a cake for Karen's 52nd birthday on August 8th. Grownup grandkids are a special pleasure — good looks, fashion statements and sharp wits to keep us on our toes.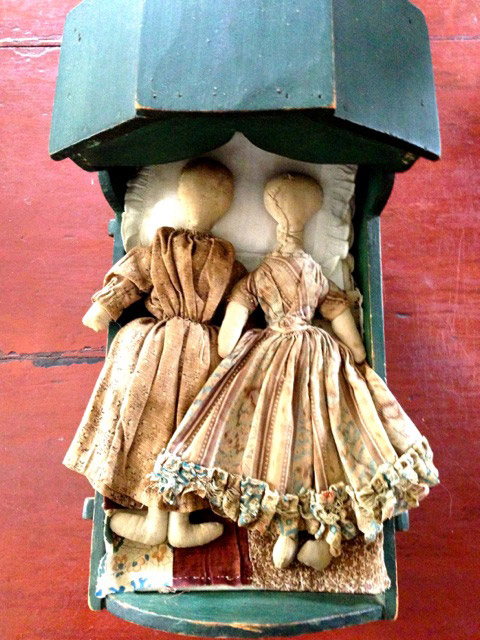 Just acquired NH cloth dolls
I had perhaps the most meaningful "find" of my career this summer, a pair of dear old rag dolls from NH, admired since the 1960s in various books, discovered in the hands of a family descendant and offered for sale. They came with their original cradle and bedding, several studio photos of the family and framed photos of the homestead. I am humbled each time I catch a glimpse of them by the parlor hearth. I will research finding the perfect home for them to secure their future when my time with them is over.
As the interior of the house becomes real shelter from cold and winter storms, our precious belongings take on more meaning. We sit in our tiny parlor and are grateful for every delight — our Erastus Salisbury Field portrait of a New England matron with me since the very early 1970s and found in Penny and Ron Dionne's shop in CT; a pink cupboard purchased long ago from Olde Hope; a large oil of a horse and groom found years ago with Bill Carlebach of Bedford, NY; several small seascapes reminding us of vistas away from our landlocked location; one of Doris Stauble's amazing wing chairs, ordered from her in 1971 when it nearly broke the bank; my father's silver trophies from long past sailing days; photographs of Rockwell's portrait of Eno's beautiful mother, Lauretta, done for a 1920s Saturday Evening Post cover; and, of course, a liberal sprinkling of the cloth dolls we love. Things remind us of people and happy experiences and stimulate wintertime contemplations. Objects make up much more than an accumulation here; they are the lifeblood of our home.
Please visit my site on www.digantiques.com for current offerings, and thank you for reading.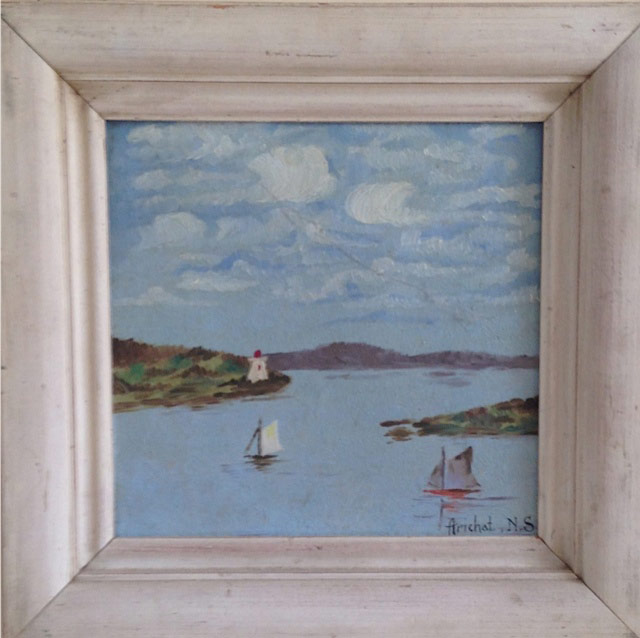 A sweet seascape which brings the water to our country parlor.