My Garden Comes of Age - Summer 2018 | Notes Archive »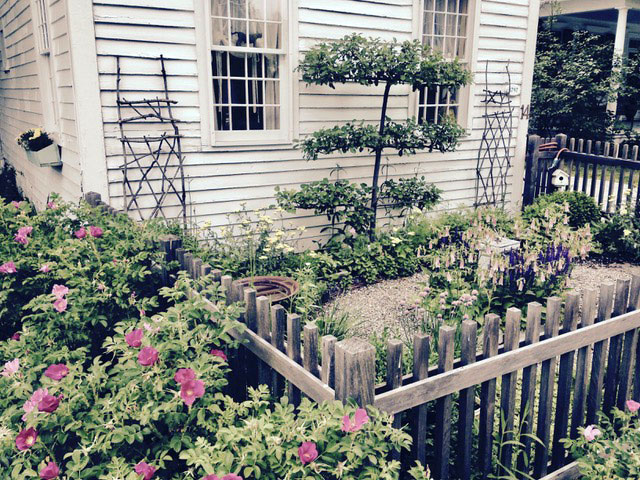 I am unable to give credit for that wonderful title since I can't remember the name of the author of the old book, but each time I visit my garden, the sentence reverberates. Yes, comes of age. Now I understand the deep meaning of the ripening of a garden. The initial burst of creativity produces what really may only be a skeletal plan as one watches the very ponderous development of the eventual result. Fortunately, with a little help, my skeleton was well designed, and those bones remain as a foundation. The espaliered apple is the centerpiece, along with the five boxwood bushes, four in the corners and one crucial one in the front center. Along one side, outside the fence, is a row of Rosa Rugosa, memorializing precious months spent by the young Schoemer family on Nantucket, on Cliff Road, where the delightful walk to the beach was a narrow, sandy path literally carved out of masses of Rugosa. In June, that plant sends out impossibly delectable wafts of fragrance, as though heaven were visiting us.
I can't underestimate the value of the chosen fence of very narrow pickets with a shallow pitched top and the gate, copied from a postcard photo of one at Old Deerfield, placed well, on the front of the house side, rather than in the front street side (Eno's idea). There is also a center oval, anchored by a granite post topped by a sundial, and surrounded by perennial salvia and other happy plants. The path is a fine pea gravel, and the main outer border is enclosed by antique Tudor Rose scalloped bricks, purchased from darling Michael Trapp many years ago for North Salem, and thankfully transported to Acworth and now here. I still see my visit with him on a lovely summer day in his stupendous garden and shop in Connecticut, sometime in the 1990's.
Since establishing here in Walpole, I have purchased an old iron bird bath, in memory of my father, reminding me of a childhood chore — periodically, but religiously, visiting each of several birdbaths in his garden, scrubbing them with a wire brush, and cleaning them with great elbow grease. Jim adored his birds and they were to have clean water for drinking and bathing! Since he has been dead since 1964, I am celebrating a very old memory and bringing him to my garden with great love and fervent welcome.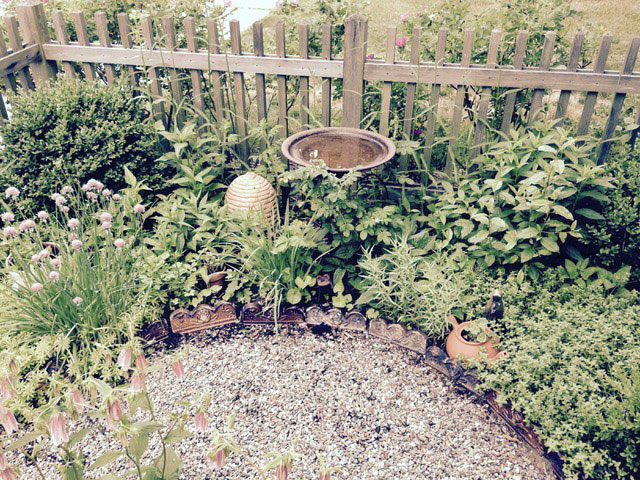 Now, Sweet Woodruff, resistant to many efforts over the years thrives here, and other herbs, planted among the flowers also bring scent and use to the space — chives, parsley, thyme in abundance, tarragon, mint, and basil, (renewed each year in an ancient stone trough). I am constantly out there of an evening with my scissors, snipping away for the evening's meal. This year, we have added a border of favorite large terracotta pots to a small garden in the back of the house. In these, I am cultivating nasturtium for salads and for colorful accents in other dishes. What fun that is! Those plants were well-placed. My medieval space in the front is too orderly for the exuberant, garishly colorful nasturtium!
Each year, the success is evaluated and things which simply refuse to thrive are ruefully disregarded, supplanted by the happy plants. Like the decorating of an old house, the space can say "NO" to an addition, as forcefully as if it were spoken. I tried English roses, but they resisted. I refuse to give up on Lavender, because I love it with a passion, and, finally, Hamstead has rewarded me with endurance. Yarrow sings here, as does the strangely named Beard Tongue.
For annuals, I always put Verbena Bonariensis in first, around the perimeter, so that by mid-summer, it has grown very tall and those purple bonbons just captivate us. The butterflies and rare moths love them too. There is usually some mixed cosmos and blue salvia in the open spots.
Tonite, while watering, one of the garden's admirers caught Eno and asked for some thyme for her dinner recipe. Absolutely!! Walpole lavishes love on this tiny pocket garden, and somehow I think that is the stardust which makes it glow.
So… pick your hometown with care, cultivate a small and endearing garden, and enjoy the resulting friendships.
Blessings for the season to my treasured readers.