This Year's Christmas Spirit: 2018 | Notes Archive »
Last March 1, we closed on the second parcel of our Acworth presence — our beloved Barn (see Notes Archive - "Celebrating Our Acworth Barn" — but we really had no idea what a huge burden we had shed until the snow began to fly here in November, giving us our second white Thanksgiving since we moved to Walpole six years ago. Eno had commuted to our hilltop Barn for those 5 years, to work, and, when not there, we worried about the dire possibilities of winter mishaps in a deep country location. When it snowed, he knew to put a shovel in the car to make his way up the steep driveway. When little Annie, our beloved Jack Russell, was still alive, she had to be carried up the hill. Then there was always the possibility of power outages, common in that NH outpost, or even a glitch in our own systems during deep frosts. A worry, ever present on the mind's back burner. And… when you love a place, as much as we loved that one, the mere simple responsibility to care for it in every eventuality, lived with us.
Well, here we are, approaching Christmas, in a beautiful snowstorm, with that whole scenario eliminated, centered in this tiny house in Walpole village, waiting for the sidewalk plowman to buzz by, watching the traffic to see who's out and about on Middle street, cozy and warm with our little family of animals sleeping peacefully around us. Our biggest challenge is what to have for dinner!! Shall I bake something special? Is Bruce around to invite for a meal? Every now and then we pinch ourselves: This is what old age is meant to be. Make life as simple and joyful as possible, and that leads me to the topic of Christmas. In this incarnation, the season is simmering with mystery, surprises, possibilities, traditions and warmth. The biggest challenge is climbing up that perilously steep,18th c staircase, crawling into the garret storage to get the decorations out. But... I shall!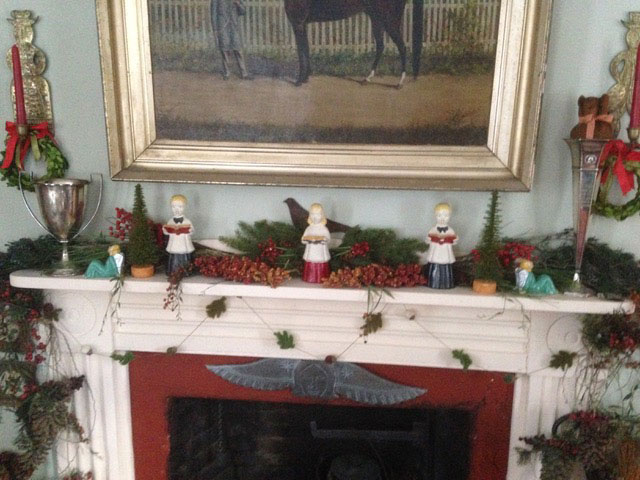 These tiny halls must be decked, because the Christmas shine must light the rest of the winter which follows - January's blasts, February's hidden challenges, March's howling winds. Re-acquainting with the dear little decorations is bittersweet, but mostly sweet. "We are all children at Christmas..." , the saying goes. Here is a delightful occupation on these winter days: Finding deeply meaningful gifts for loved ones amid the collected treasures of the past. If we have loved it, surely the recipient will feel the same way. John Schoemer's mother was besieged with work one year and simply never got her gifts bought, so she went around her amazing house on Riverside Drive in Sleepy Hollow, NY, and selected things each of us had admired. Oh, bliss. The little Royal Doulton cream jug is right on a shelf nearby as I type this. She is gone, but never forgotten.
This is decidedly NOT re-gifting! — which, by the way, (whisper) I think is a great idea. Years ago I brought my friends, Joel and Kate Kopp, a pie for a festive occasion at their camp in Rhinebeck (oh, joy for those visits) and the lovely pie plate was part of the gift. In her inimitable way, Kate said: " Please don't leave it here. We don't need it." Talk about transparency. and... I loved her for it. Other times, she might say: "May I sell it?" That, too, was sincere. Lack of political correctness can sometimes be so refreshing. When you gifted Kate with the perfect thing, she was thrilled beyond measure. Still is, I might add, as we remain fast friends.
I must mention the dolls at Christmas. So many of them were "born" on Christmas mornings long ago, and I think it is buried in their DNA. Lots of little girls threw out their arms to embrace them under the trees of the past -
enough love to sustain them for centuries. They emanate warmth as they surround us. Patina is much more than dust.
We will have Stephen, Doug and Sue — and any other untethered person — here for Christmas Dinner, with Divorce Cake for dessert (see January 2011 - Christmas Memories in Notes Archive for the explanation). There will be warmth and friendship
and laughter all around. Our animals will be cherished company, as always. We send you our very warmest wishes for whatever you celebrate this season, and a very happy 2019. Oh, we are old...
Dolls of Christmas Past
---
---