The PIG Flies Again: March 2019 | Notes Archive »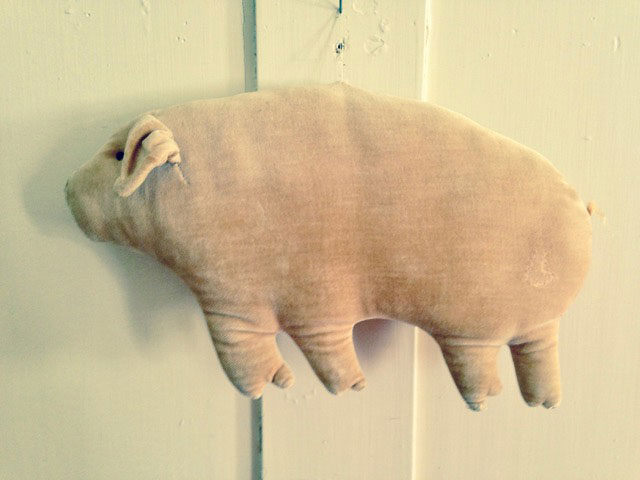 Towards the end of last year, the original owner of The Flying Pig, nearby in Westmoreland, NH, ran into life's vagaries and closed the PIG, her original and wonderful group shop. Sad. It was a ray of sunshine — good goods in a sea of the stuff found in other group shops. We mourned the loss. But... Ian McKelvey and Kris and Paul Casucci to the rescue. They picked up the gauntlet and have re-invented the PIG. It's beautiful and bright and promises to be a must-visit stop on the antiquing circuit here in southern VT and NH. Big, official opening is March 8 with new hours - Friday through Monday, 10:00 to 5:00, with a terrific cast of dealers exhibiting, some previous PIG people, and a bunch of new faces with great stuff. We have visited and taken a nice showcase there, and proudly join the venture with wholehearted support. The space has been totally refurbished with paint, light, walls, great signage outside and in, big, bold advertising in the stand-out, bright red they have chosen, and lots good things for sale. There is even a popcorn machine for hungry travelers! Roxanne Reuling also joins the staff, with an extensive family background in the auction business. This is exciting news for Spring 2019. The owners are a lively, cutting-edge group, busy buying all the time, and the joint is jumpin'. You will be hearing much, much more about the new PIG.
A rough winter shows few signs of giving up, but we know that as the clocks spring forward, and the sun moves around, there's something in the air signaling change for the good. Eno and I have had a cozy season with his new shop only moments from home, and the Acworth property sold. This time last year we were in a deep hole, but it takes time to organize two very busy lives and careers. There's still plenty to do, but we see the light at the end of this tunnel.  
| | |
| --- | --- |
| | |
I have a new 2nd site on DIG ANTIQUES, just for my cloth dolls and related things. There are periodic updates - next one in March 17 at noon, EDT. This site is full of adventure for me:  a subject I dearly love, and a motivation for seeking out new/old doll faces for loyal collectors. The miracle of antiques is that it seems limitless; we'll never run out of hidden sources. So many of our American ancestors treasured cloth dolls. I heard of one recently found in an old Vermont farmhouse, way up near Canada, where a cloth doll was found on the highest shelf of the pantry. Really???? Something magical has always existed between humble, homemade dolls and their owners — a quality that helps them survive as descendants just can't toss them away (most of the time). I am on the hunt, and you can reap the rewards on March 17.

Hope you will open the window a crack for some of the new air waiting to come in.