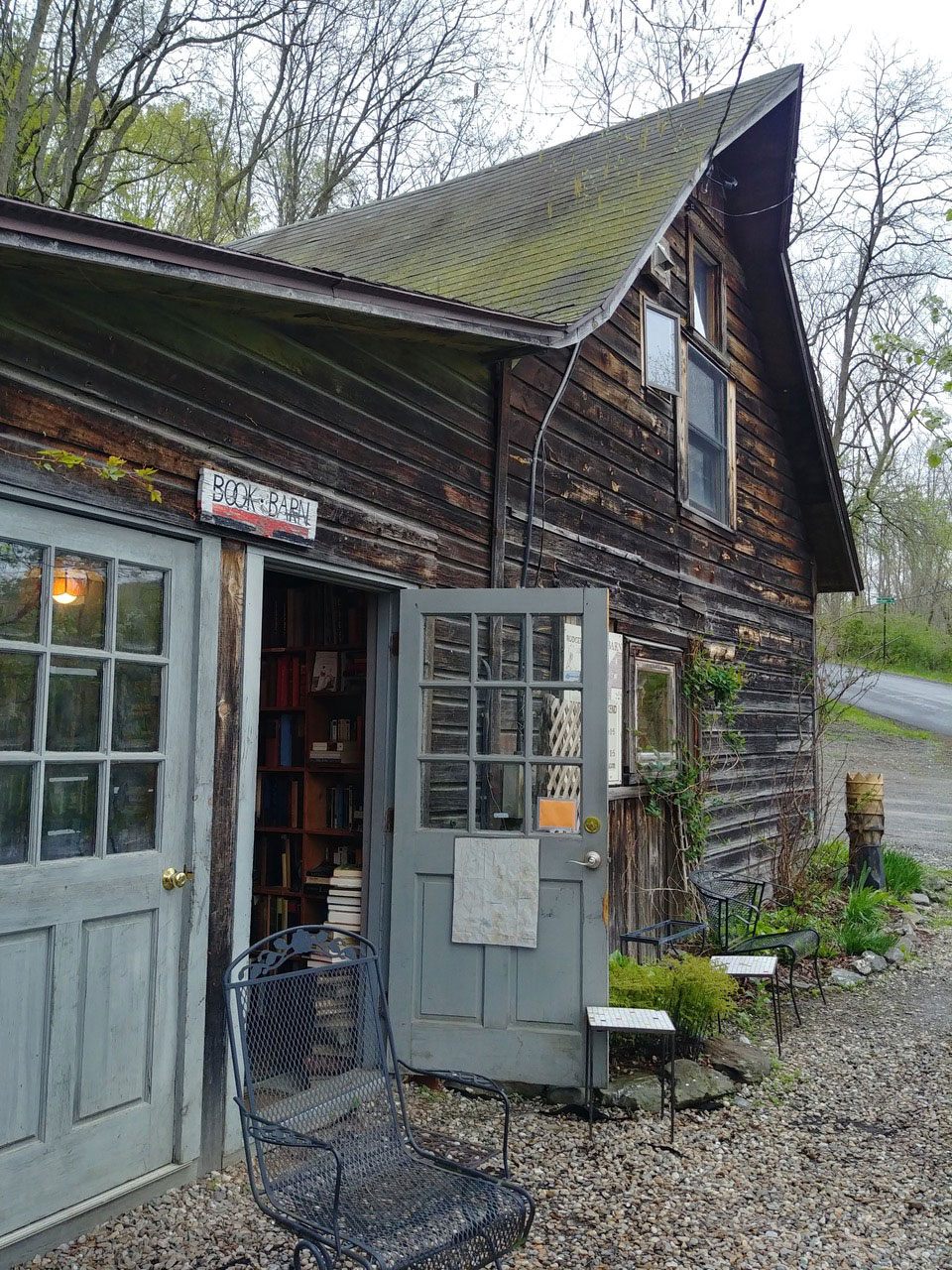 We lost most of April to an unexpected bout with the flu. Yes, we did get the shots last fall... Well, almost 3 weeks confined is really a chunk of time, and we tried to accomplish a few things, including culling and parting with 12 boxes of books. My daughter, Karen, has a sweet job on weekends at the Book Barn in Hillsdale, NY, owned for years and years by the wonderful Maureen Rodgers, now almost 82. Maureen was the beneficiary of this enormous collection, which I suddenly realized I would not have time to look at if I lived to be 100. Yesterday we invited the dogs into the back seat and took the trip over mountains and through valleys, over hill and dale (pardon the pun) to Hillsdale.
The Book Barn is extraordinary, plunked down on a country road, way off the beaten track, now glowing amidst clusters of spring blooming bulbs, sinking lovingly into the side of a little hillside. There my precious books came to rest, where they will find a host of new, enthusiastic owners.
Have you heard of "The Gentle Art of Swedish Death Cleaning" by Margareta Magnusson? Oh, such a worthy book for the elderly among us — Meaning : me !!!! We must get rid of the detritus — even the good detritus. Our kids don't want it, and we want them to think kindly of us when we go to our reward. It's easier to do when one feels able to handle it, and that got us on the latest mission. I took a moment with my books to thank them for glorious hours of pleasure and inspiration. There are still plenty here, but 12 boxes really lightened the load. If you live anywhere within driving distance, visit the precious Book Barn to share in our largesse. Maureen sells most books for around $3.00. Yes, you got that right. The successful entrepreneur — volume at a low price. That's why she is still thriving in her barn after 40 years.
Facing hip replacement this July, so more quiet days ahead, which in my dear old house is very comforting and reassuring. Speaking of books... Always something good to read — BORROWED from our library, or discovered on a hidden shelf among our own possessions.
I am now knee-deep into the work of Elizabeth Gaskell, the contemporary biographer of Charlotte Bronte (yes, she knew her), and it is such fun to wander around the mid-19th c with a writer who is living it. Gaskell was a highly respected writer; I believe Henry James was a fan. We can soak up the mores, thoughts, clothes, interior design, food, and all the trappings of true 19th c English life. What a treat.
Very quiet on the antiques front here, which is classic April in our business. The tax man gets everyone nuts, but soon the juices will flow again. There is always treasure to be discovered. Sometimes the best reveals itself in the off-months. I have recently acquired a few in that category.
I will try to stay on top of my Notes while I am recovering from the new hip. Til then...wander in your gardens.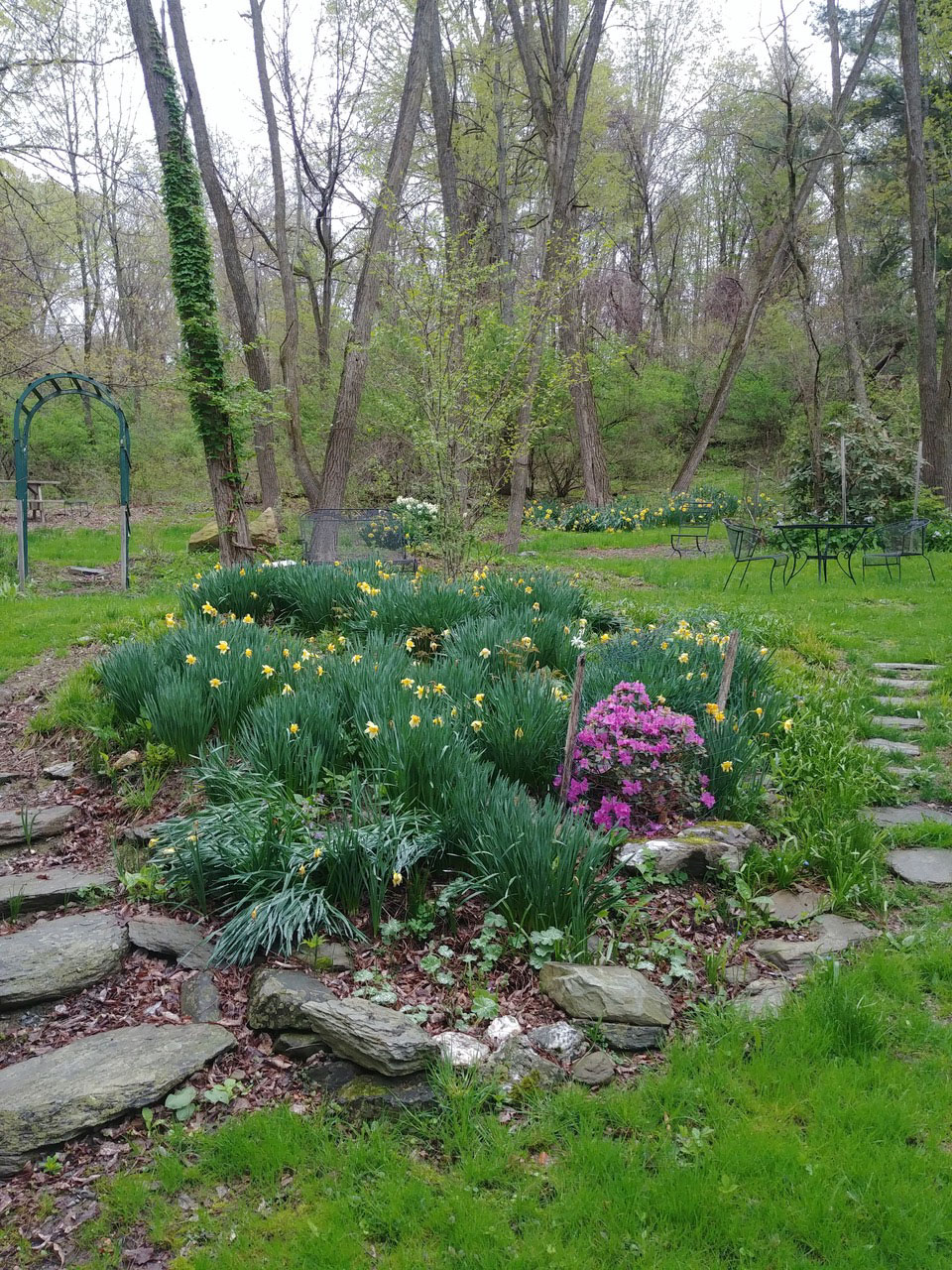 Back garden at The Book Barn