I have written that I am facing hip surgery in early July, and that has taken center stage what with the careful preparations of the staff at Cheshire Medical Center. Tests, more tests, physicals, consultations, x-rays, forms. Yes, it's complicated at my age to undergo elective surgery. I am discovering more than I want to know about my health and well-being. I did everything I could to avoid this surgery, but it is inevitable. Onward. I do like my doctor very much, and will strive to be a good patient.
Meanwhile, my daughter, Karen, urged me to meet her in Amherst, MA, at the Emily Dickinson home recently, and that was a superb distraction. What an experience. Deeply touched as we were by Emily's house, the Evergreens next door is a show-stopper. Threatened with his only son, a lawyer, leaving New England with his new wife, Susan Gilbert Dickinson, Emily's father designed and built a masterpiece of its time right next door to his own, for his son, Austin. (Please follow up with research on the rare and complicated life of Austin Dickinson, who kept a mistress for years, while becoming Amherst's toast of the town, entertaining the town's dignitaries, and even Ralph Waldo Emerson from Concord. That mistress, Mabel Todd, is perhaps the most responsible for getting Emily's work to the public.) The path is worn from Emily's house to Austin's, but there were complex issues ahead.
The house, however, is a true rarity in that it remains essentially untouched. Vacated by the last heir in 1986, the original wallpaper droops from the walls, and the decidedly Victorian interior and furnishings are in place. No gussied up restoration here, we get to experience the true essence of life as it was for the original inhabitants, and it is not pretty. We are so accustomed to historical interpretation where things are clean and neat to meet our fantasies and sensibilities; it is a shock to the system to feel that Austin himself might just walk down that staircase to greet us. They were collectors of the art of the day, particularly paintings, and massive examples festoon the walls. The chair seats sag from use and the carpets show wear from constant traffic. It is the most deeply immersed I have ever been in a profound time in our past.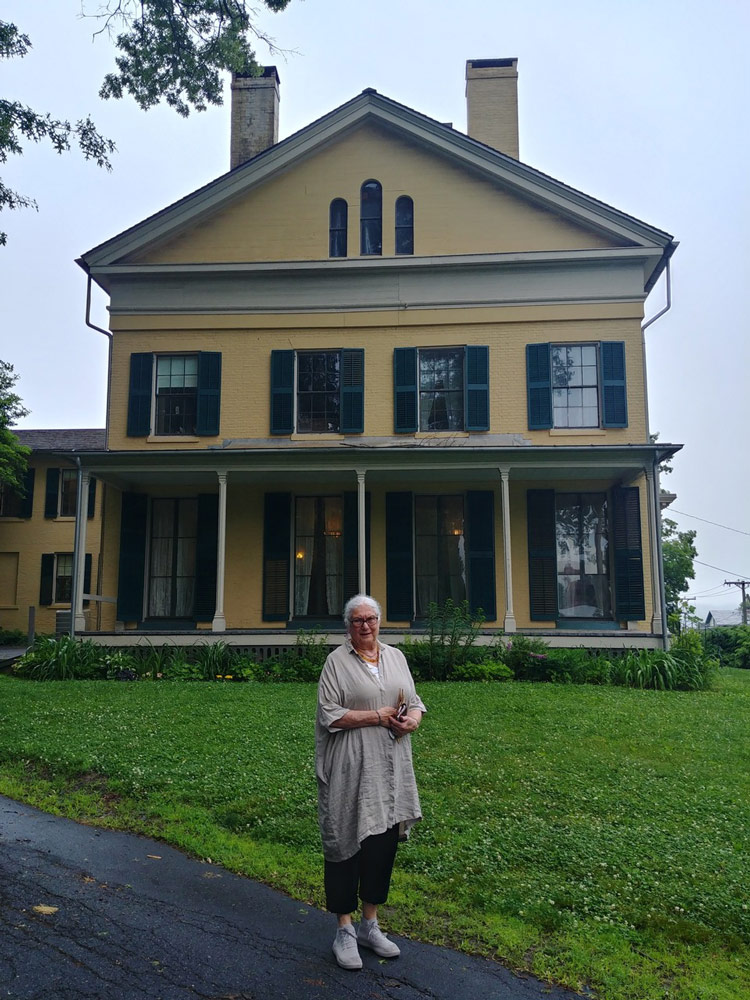 Karen took the unflattering, accompanying photo of me in front of Emily's, and, like the Evergreens, it is not my finest hour, but it is real, and something mystical looms behind me in that house. Perhaps it is the powerful, undiscovered - as yet, spirit of Emily Dickinson, beckoning through time to captivate us.
Make this trip — I urge you.
I feel like I am Emily herself, a willing prisoner in this little house, as I count down to D-Day.
There is much to do here, particularly the garden care, and this year my labor and love is paying off. New additions and old work horse plants are thriving in the cooler and wetter than usual weather. Wonderful. We have used every tiny spot on this property and buffed it up, and six years later it really pleases us. Old age is significant and joyful in the polishing of what we have acquired. We continue to cull stuff, which is apparently a way of life for acquirers. Discrimination in design is a challenging sport, but produces amazing results.
Summer. Not just "summer afternoon" as Henry James reminded us. Summer mornings, with birdsong and gentle light, and summer evenings, soft and comforting on our tiny deck with the dogs at our feet, and the cat at the screen door.
We wish you the deep pleasures of the season.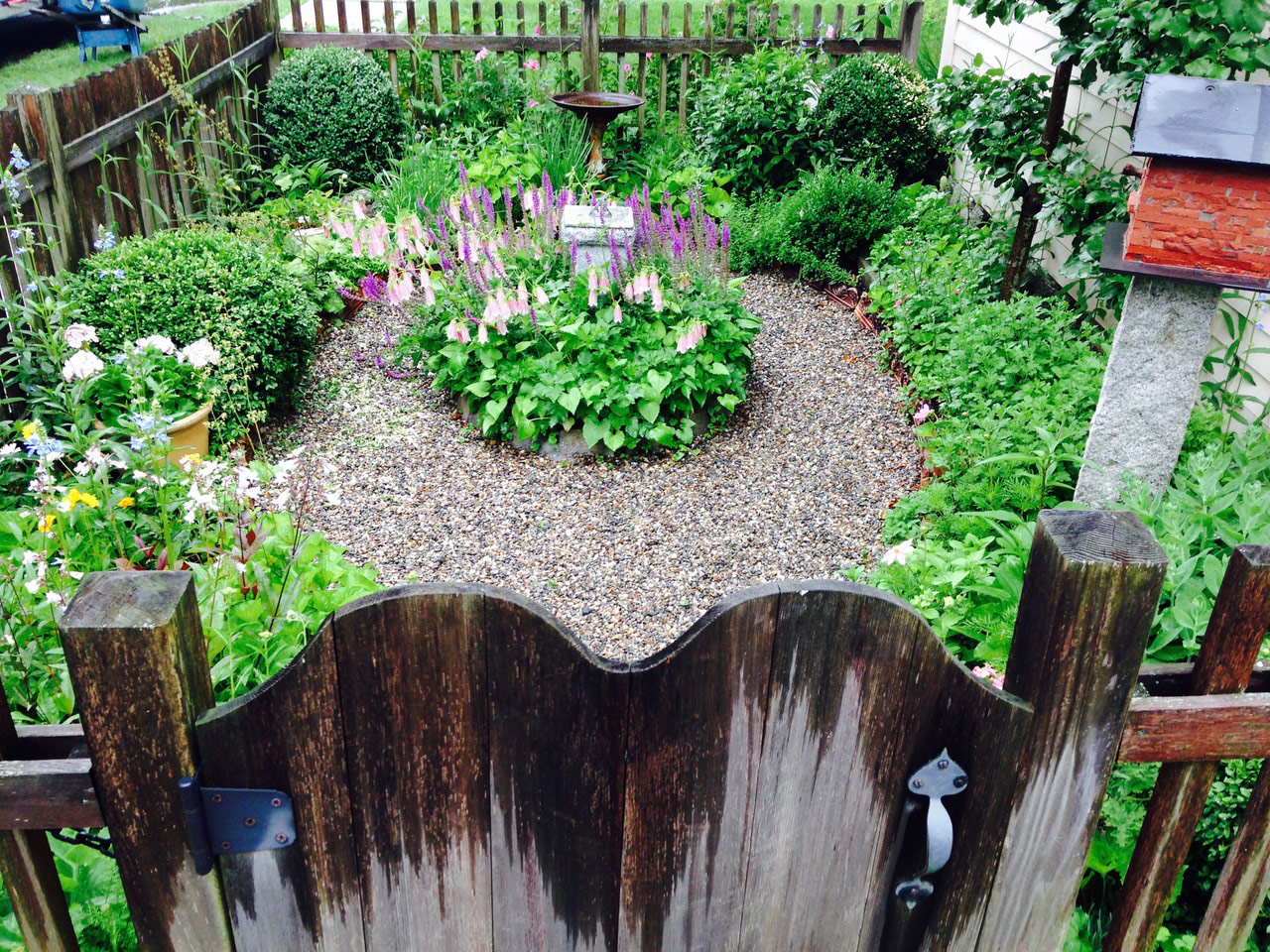 Our Garden in the Rain