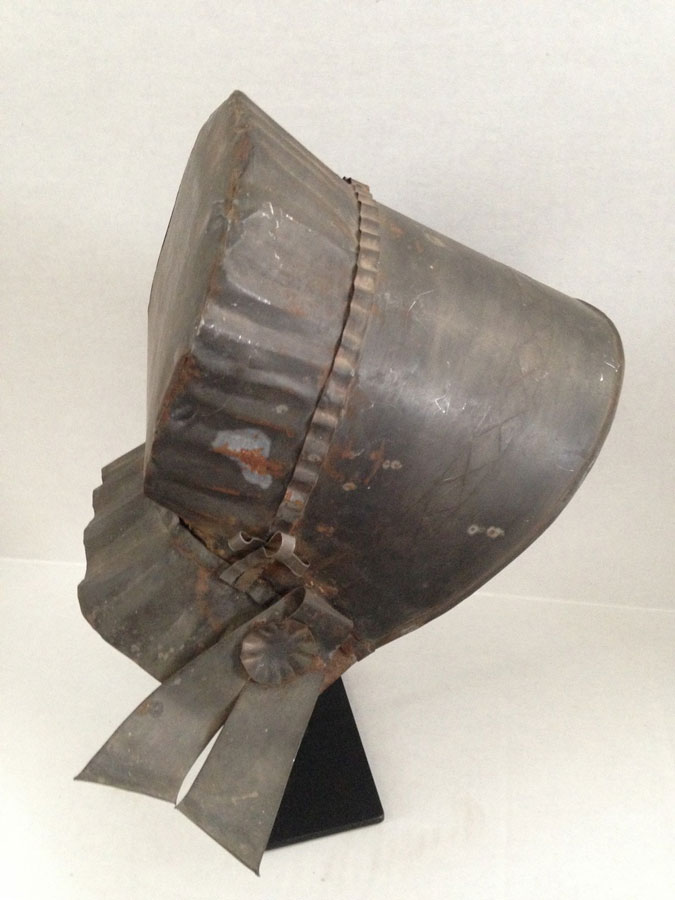 There is mystery in the world of antiques. Real magic. Here I am, almost 50 years into my passionate career, and I submit that it is still as fresh in discovery as it was when I began in 1971. The amazement at yet another "find" is as new and exciting as ever. At a nearby group shop, meandering around with some dealer friends, and what should jump out of a showcase but a 10th anniversary tin bonnet. Not just any old anniversary piece; an extraordinary work of art, as complex and spiritual as it could be. I live with a metalsmith. My husband is a top craftsman in the automobile world, hand-making cars from stem to stern. He was in the other room when I made my discovery and I quickly engaged him in the piece. He too was taken aback… The price tag was a bit daunting, but at the moment of sublime recognition, one somehow overcomes that obstacle. (Of course, one has to have $$ in the bank, but I always tell my customers that, when in true love, the shock of price disappears in delight of ownership.) The bonnet was sitting awkwardly on an ill-suited wooden hat stand, looking a bit forlorn.
Well, reader, we bought it. Eno immediately made a proper display stand, and now it commands all the honor it is due.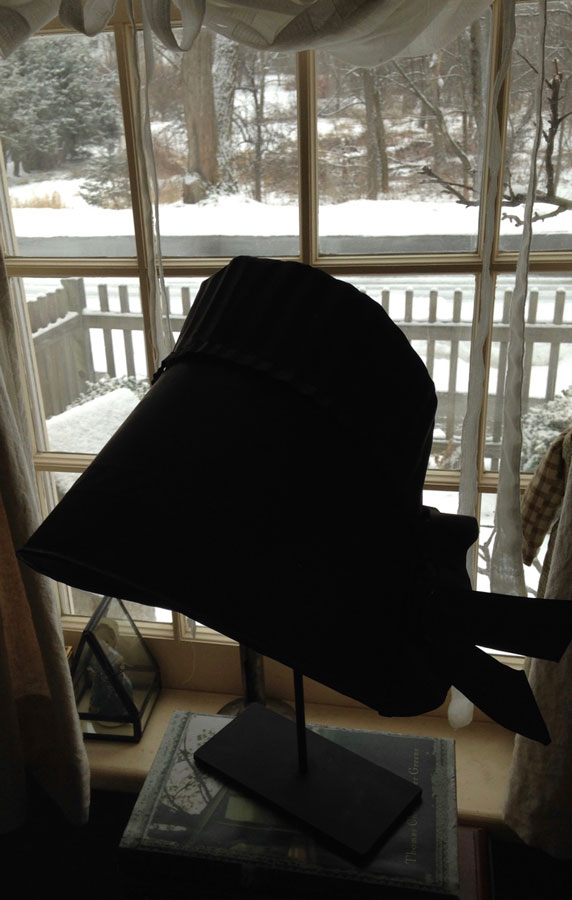 Re: Bonnets. Everything about them intrigues me, from the creative beauty of materials and design elements, to the papered boxes made to store them, to the devotion of their owners. A story about one of my heroines, Hannah Davis of nearby Jaffrey, who created the most treasured hatboxes of the period, tells of the meaning of the boxes to their owners. When a suitable number of boxes were finished, Hannah hooked a borrowed horse to a wagon, and traipsed to the mill in Jaffrey Center. At lunchtime, the mill girls would swarm the wagon to purchase Hannah's boxes. (Reminds me a bit of the Good Humor man of my childhood!) Those bonnets were the pride and joy of the girls, and a safe place to store them was a priority.*
"Little Women" has just been remade and released by Greta Gerwig, and one thing I read about it made me shutter. Gerwig is quoted as saying that she doesn't like bonnets, and so she left them out of her version. Well, I'm a big fan of the 1994 film with Wynona Ryder and Christian Bale. You will find some good bonnets in that film.
Lest we forget, doll bonnets are delightful accessories for the doll collector. I'm always looking.
Anyway, you keep looking too! Antiques continue to recirculate as collections become available, and trends change.
As I write, the sidewalk sandman is going by on Middle Street. Last night we got some form of precipitation which has apparently frozen and made walking hazardous. This is a wild winter. Snow is the least of it and, frankly, would be a welcomed relief about now. Ice is the monster, especially to old ladies with new hips.
So, we enter the dark season once again, when the sweet flickering candles and warm golden lamplight from neighbors' windows reassures us that we have company in our solitary lives.
Our indoor companions, human, canine, feline and inanimate, mitigate the austere outdoor environment. Village living is a simple solution to loneliness, as we know that there is companionship in navigating the dark. Cooking and reading are great winter pastimes too.
A pile of unread books, and a few recipes for special meals warm our souls.
*Please see my Notes Archive, December 2011,"Hannah Davis and Her Boxes".