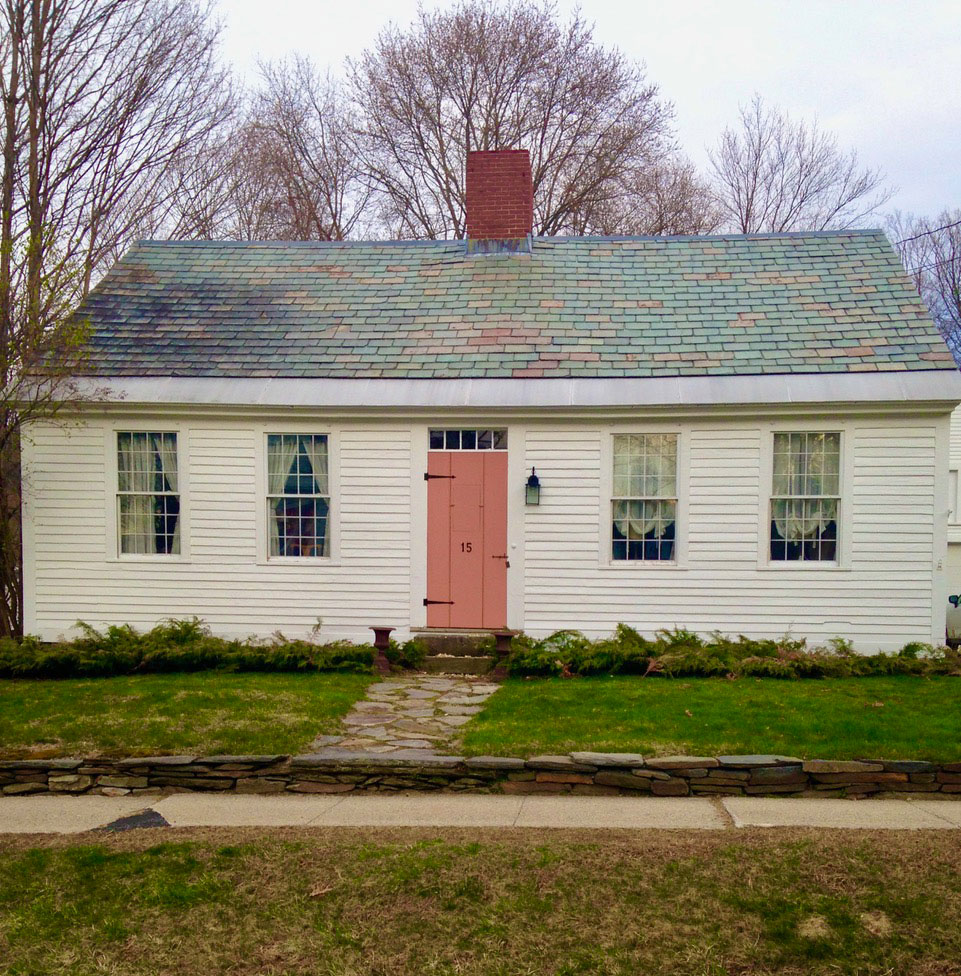 Like all the peculiar eccentricities and serendipities of life, one February day, I took a turn onto a road I never take- only two short blocks from home. A "For Sale" sign had appeared - who knew when? - in front of the most appealing early cape in Walpole Village, a house we had secretly admired since our arrival here. I called Eno, jokingly saying "You're in trouble now!" After errands, I visited the local broker and she offered to take me for a tour, (The sign had gone up that very day.) One glance in the back door and I knew. Called Eno and said: "You better come see this." Working only a few short blacks away, he came and had the same reaction. Everything we lacked was here — 500 square feet more space, a delightful square layout, AND a truly wonderful attached barn for Eno and his car projects. A no-brainer. We bought it, reader, that same day. Fierce competition was not daunting; overcoming scary issues we have been facing with my health notwithstanding, we forged ahead. We moved everything on March 23rd, with a swirling spring snowstorm blessing the adventure.
I won't say it has been easy. We truly loved the Thimble, but major changes on Middle Street and tight quarters with our 2 Aussies and a big cat, were challenging. Moving is monumental, no matter how courageous one is. I had no idea when we bought the Thimble that my business would be centered there. Sure, it can work, but with issues to overcome. Everything was difficult due to a lack of space.
It's beautiful here. The knowing builders in 1818 placed the house on a gentle knoll, above the street, and from that sweet perch, one is blessed to have views from every window — rooftops on one side, and the magnificent Town Hall on the other. The barn is attached in the spirit of the early designers — house, shed, barn — making indoor access for winter chores. Eno has created a lovely space for me and my antiques just a step or two from the house interior, and, eventually, he will be working in the barn proper. We started life together in North Salem, NY, with his shop downstairs in our house, adjacent to the horse barn, and so we feel like we have been transported back to our familiar 1980's lifestyle. The house itself has benefited from the imaginations of countless owners: a built-in 1920's china cupboard, an early pantry with a built-in screened pie-safe, 2 amazing guest rooms in the garret, a bath and a half, updated kitchen, and the charm only years and lives lived in a space can bring. It feels like waking up in one's favorite B & B, but knowing there's no trip back to reality looming.
I will miss my garden. Really miss it. As old age sets in, I'm afraid that I won't be creating one here, but using the existing borders and pots placed about to bring color and life to little spaces. The garden at the Thimble will be my gift to the new owners and to the many Walpole walkers. I'm sure it will continue to spread joy as it came into its own over 7 years of tending. Everything is full of compromise, and our move certainly has its trade-offs.
If one has loved and bought country antiques, one of its pleasures is that the things were all made to fit into houses like ours. Scale, color, design — It all works. So, as Eno says, the house has embraced all that we had and we can select carefully what we use here. Even some of the curtains are working, with a little tweaking. Most of all, houses have karma, and this one feels right. After only a few weeks, we are comfortable. We bless all that we have inherited from previous occupants, ask their blessing in return, and begin to embrace what has turned out to be a brand new life, just a few blocks from our last home.
I will be beginning to list many precious things from our collections on my DIG sites: www.digantiques.com and here. Please watch for them, and Happy Spring 2020. Embrace new adventures in this time of uncertainty.