Heading Into Fall on Elm St. - August 2020 | Notes Archive »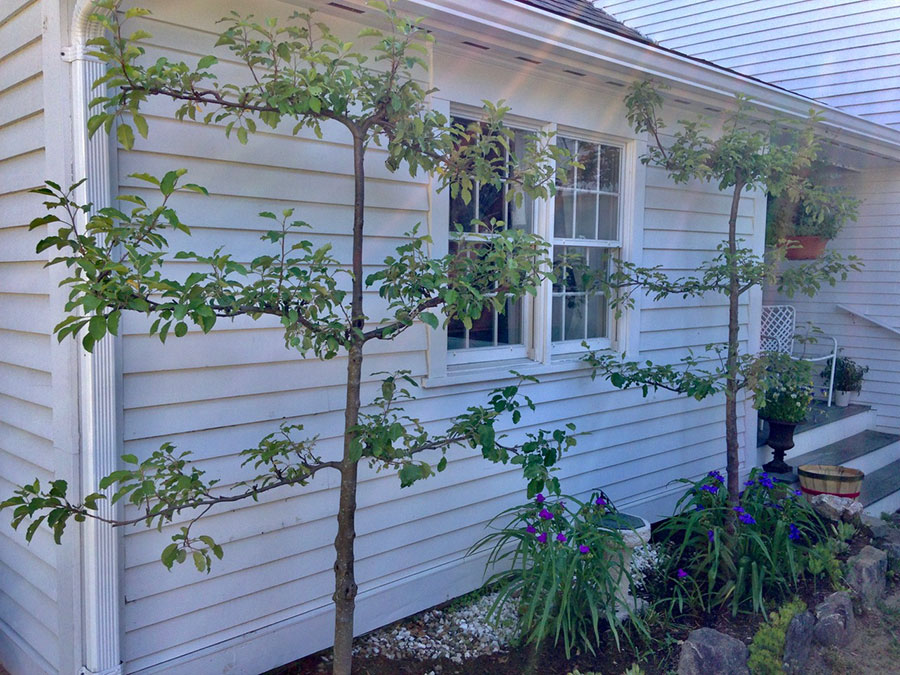 This morning the air feels clear after weeks of sweltering humidity and blazing sun. We have spent since March 23 settling in after a herculean move from our tiny house around the corner. You would think we had moved 3000 miles. A move is a move, no matter how short it is, and this one has been particularly challenging as I recover from another surgery in February and continue in treatment. Eno has taken the entire brunt of the work, including closing down his shop on Rte 12, and moving all his machines here to the barn. All storage units are closed; Eno is here with all he owns; everything is in one place again. Twenty years ago we left this lifestyle behind in North Salem, NY, when we moved to Acworth, NH, and so it is a reassuring feeling to be back in one spot. When the winds howl and the snow flies, we will be under one roof again, which we love. A few steps here or there and all we need to live and work is accessible. Of course, 20 years ago, we were hale and hearty; now we are old. But the familiarity of the days' rhythm is comforting, and we all need comfort in old age!
It is always amazing to re-acquaint with one's possessions as they find places in a new environment. Each thing is evocative as it gets handled and pondered. The house is an amalgam of all our other lives, and now, as we move into the uncertain days ahead, it's almost impossible to describe the sweetness attached to those things. It's important to come to terms with material things, because they are not really indulgences. They are the companions of everyday life and we are people who treasure them. Isn't it strange that some of the things from the distant past are the most meaningful? Conversely, here it has been a priority to put some newly acquired pieces into this — the last — house. It needs some individuality to mark its importance in the scheme. The Fraser/Glaser auction at Billy Smith's was a terrific opportunity to bring some fresh air in here. We knew both couples pretty well, and so there is nice karma around their precious belongings. I purchased a beautiful, scrolled base blue 6-board chest, a wonderful, large, skinny doll's house (I named it Ephrata after the PA cloisters), a Brewster-like portrait of a stern New England matron, all from Tracy and Frank Glaser's stuff, and a rag doll and bear from Mary and Bob's things — the last two in urgent need of care. The house gobbled all of them up, and took on a glow of friendship. I sat for a while and made some needed repairs on the doll and bear, and now they happily sit in a bittersweet painted highchair in the little, gracious front hall here. Just right.
So… here we are, beginning an unexpected final chapter, making the house conform to us, as we get acquainted with it. Houses are sentient beings, believe me. Particularly old ones. They soak up all the love you throw at them and more. Things screamed to be fixed, screamed so loud we couldn't ignore them. After a certain amount of work, love and understanding, and even after a few scowls and waved fists, peace reigns and people, animals and house settle into the daily routine. As all this has transpired, I have been reading 19th c writing: Jane Austen; a memoir of a 90 year old man (Oscar Laighton, Celia Thaxter's brother) who spent his life on Appledore Island, among the Isles of Shoals, off Portsmouth, NH; and now, a big, fat volume set in late 18th c England — The Mysteries of Udolpho, by Ann Radcliffe, an 18th - 19th c English writer. This provides a sense of time and place for our new life here.
We have invented a few garden areas, unique to this spot, and giving great pleasure. On the side of the house, just before the attached barn, a clump of chives emerged. We turned a small area around the chives into our herb garden — nothing precious or orderly, but a clutter of useful cooking herbs. Oh, it has been wonderful. A short staircase and small deck lead to the kitchen, easy access for gathering herbs for cooking and garnishing. We have a prolific patch of spearmint for the gallons of sun tea I have come to count on all summer long. We will experiment here on Elm St to see what suits the capacities of elderly gardeners!
What will unfold as we move into fall and winter? It is a wonderful house in a great location with delightful window exposures. We are all tucked in with Eno back at home - his workshop in the barn.