A Sad, Sad Day – September 1, 2020 | Notes Archive »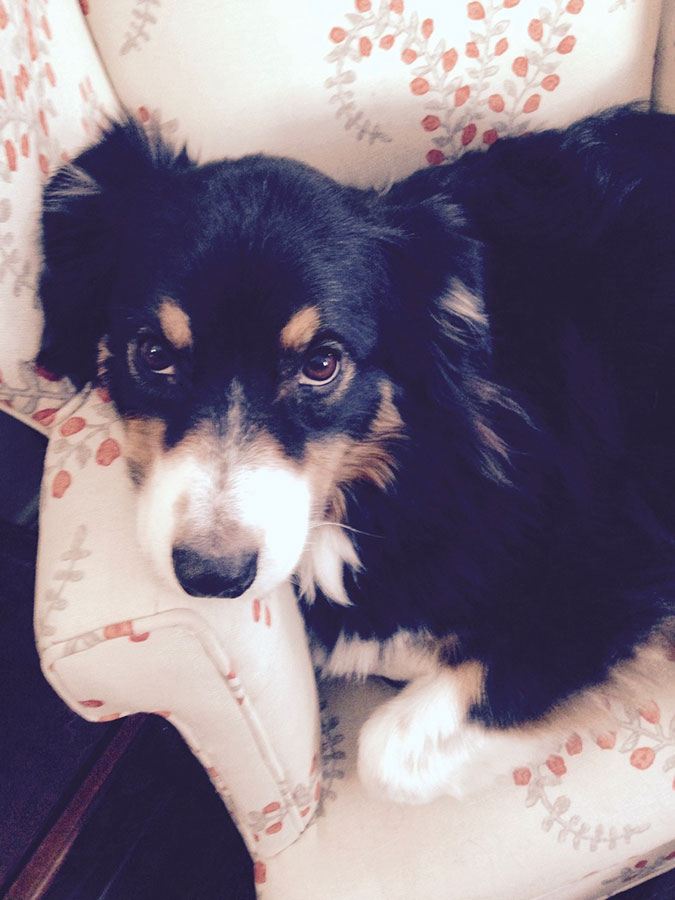 Maddy – March 1, 2011 – September 1, 2020

Our majestic, beloved 9 year-old Aussie, Maddy, was stolen by death from us today, after a three year courageous battle with epilepsy. This compounds the loss we suffered a few years ago when another 9 year-old Aussie, Kippewa — lost his life suddenly to an undiagnosed event, so sudden that we were left stunned and bereft. We have owned 6 Australian Shepherds, each a rare addition to our life, the first, Meggie, joining us in 1991. Almost 30 years of intense interaction with a breed that has suited us perfectly. They are beautiful, smart, fun, totally devoted dogs, and we have been blessed six billion times over for sharing life with them.
Tonite, as we mourn Maddy, we can't help but focus on the singular elements of her spirit. This loss is so profound. I can't possibly articulate her dignity and courage in dealing with a vicious malady. She let Eno dose her with 12 massive pills a day — ghastly amounts of drugs touted as efficacious. We stole a few months of quiet as seizures were controlled, but they would roar back. Our magnificent Maddy fought the good fight, affirming something we learned long ago in our chosen path of intimately sharing life with animals, many, many animals: They are the great teachers. As we find ourselves in the last segment of life the looming question is — Can we possibly adapt the lessons learned from our beloved animals to making our human endings benign? I'm afraid to say that we will probably fall short.
At the saddest moments in life, as we decide to save the animals from pain and indignity, I am reminded of a story told to me in 1981 by a dog-loving neighbor in New Canaan, CT, after I had lost a treasured Miniature Schnauzer, Piper. Katherine Terhune, widow of Albert Payson Terhune, author of the Lad series of dog stories, went to a funeral of a friend, accompanied by another friend. During the service, Katherine stifled a giggle. Her friend was shocked, and leaving the service, she asked Katherine whatever that meant. Katherine Terhune replied: "As clear as day, Albert said to me: 'Katherine! All the dogs are here!!'" That little story has given me comfort all these years. After all, how could an all-loving Being keep our souls isolated from our animals in Paradise? So… at the moment of death, I whisper into my animals' ears: "I will see you again. I will come to find you." I hope. I'm sure Weezie Reid would be astounded to know that her little story has echoed through all these years and brought a moment of magical possibility to me in times of great need.
So, as we navigate the awesome void of life without Maddy, we will hold her very, very close in spirit. Oh, how that beautiful face will be missed — greeting us with unfathomable warmth, hundreds of times a day. She would come to check on me if I stole a few extra minutes in bed, be at the door every single time we came home, jump up on the couch to nestle close as possible in times of repose... those expressive eyes penetrating directly into the soul. She did certainly get her share of deep affection from us, every kiss well-deserved. She was loved in the purest way possible.
I bless my beautiful husband for his unstinting, loving care of Maddy, as I dealt with my own recovery. I bless the remaining animals, Aussie Lizzie, and Boo, beautiful boy cat, as they wander the house looking for the huge presence we all now miss. And, Maddy, Happy Trails, and may all our cosmic travel end in each others' arms.